How to Add Text to Video
Get latest version of Aoao Watermark.
Aoao Watermark getting started
View Detail of Aoao Watermark
I know many of you like to upload videos to YouTube, Vimeo, Facebook or some other sharing websites to share something with your family members or friends. So do I. It's really a cool thing and I can always express my recent feeling in that way. But most of you may forget an important thing. There may be someone taking your own videos for illegal use or stealing the videos without your authorization. So it's time to find a way to protect our own video property online. Watermarking videos is an effective way. With an easy-to-use tool, we can watermark our YouTube video or other online videos in a few clicks. The following guide is to tell you how to watermark video. You can add text to video or add logo to video. Do as you want.
Full Guide
Well first we need to download this video watermark tool and then install it. Let's add text to video now.

Step 1 – Open the Video Watermark Tool and Add Video Files
Click "+"button to add some video files you want to upload online. You can clearly see the some detailed information about these videos like their video resolutions, formats, time duration, etc.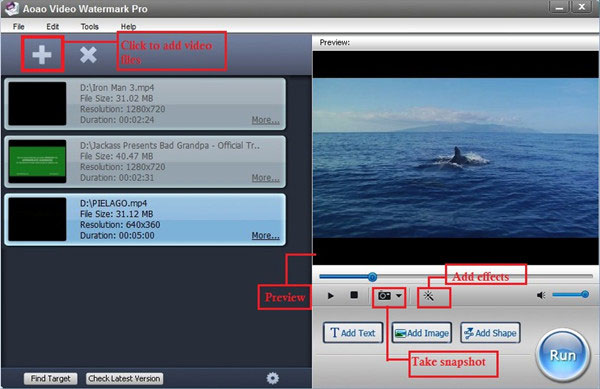 Note: Actually, with the Aoao Video Watermark Pro, you could do more. You may like to add some special effects to retouch your videos like brightening videos. Or maybe you want to get some separate images from these videos. This tool can meet all your demands.
Step 2 – Add Text to Video with Ease
Click "Add Text" button to customize your own watermark. You'll see another interface just as the image below. It's very easy to understand.
Type some words in the blank and then press "Add" button. Your first text watermark is to be created. (You are able to control its opacity and drag it wherever you'd like.)
Press"Add Key" button at the point your text watermark appears or disappears. After finishing this, click "OK".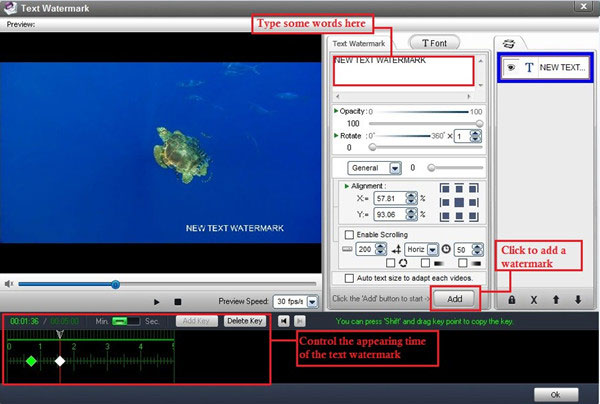 Note: You can click "T Font" button to change the text font color, size and more.
Step 3 – Choose Output Format
Click the "Run" button. And then you need to choose the output folder.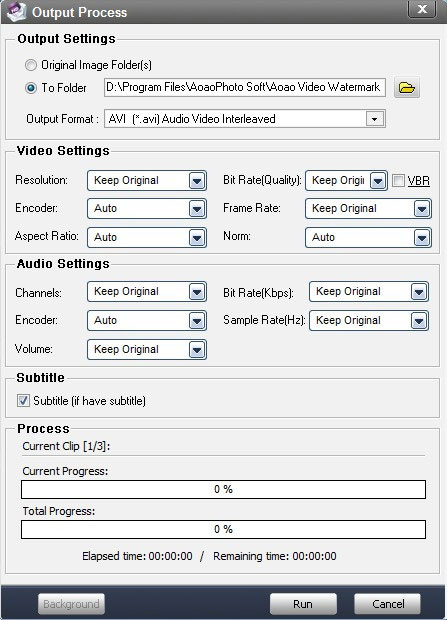 Note: You are also allowed to convert video with this simple tool. It supports you to convert video between any pop video format like AVI, MP4, WMV, 3GP, MOV, FLV, SWF, VOB, etc.
After a few minutes, all your videos will be watermarked at the same time. And you'll be amazed to what you'll see. It's so simple to add text to video from now on.
About this Software
Aoao Watermark for Photo provides the easiest solution to protect your photo copyright. It's also ranked high by CNET's editor. Click here to see CNET Editor's review. With professional photo watermark software, you can create watermark like adding text to photo or adding image watermark to photo or even add cool frames to photos. Besides, it's also available to batch watermark, crop pictures as well as resize pictures. Do you want to try a free Aoao Watermark for Photo?
Try & Buy
The Limitation of Free Trial
1. The unregistered version of Aoao Video Watermark Pro will put watermark on output files.
2. No expiration.
3. No functional limitation.