How to Easily Watermark YouTube with Top Quality?
Get latest version of Video Watermark Pro.
Video Watermark Pro getting started
View Detail of Video Watermark Pro
YouTube is now one of the most well-known sharing websites. People from worldwide like uploading their videos and sharing videos with other people. But you'd better take authorship with your online videos to prevent piracy and duplication. An easy and common way is to watermark YouTube video.
There is hundreds of video watermark software in the market or on the internet at present. Do you really want to spend a whole day finding an ideal one? Today, I recommend you with Aoao Video Watermark Pro which enables you to add watermark to YouTube effectively.
Now you can learn from the following guide on how to watermark YouTube video very fast but with high quality.
Here you are able to download a free Aoao Video Watermark Pro.Don't miss it.
Step 1 – Add Video Files
1. If you have downloaded this video watermark software, please install it on your PC first.
2. Launch it and press "File" button to add the videos you'd like to share on YouTube.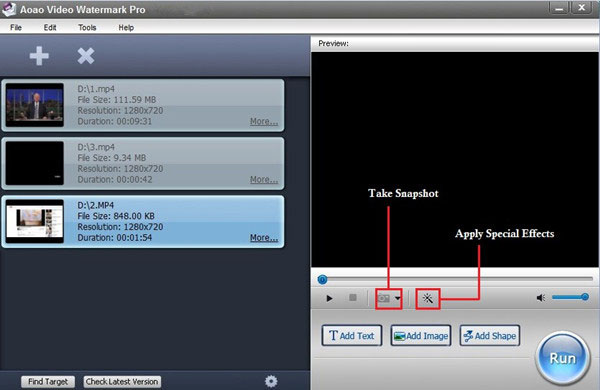 Note: Aoao Video Watermark Pro also supports you to apply some special effects to enhance your videos.I want to set the image below as an example. Besides Old Film, other great effects are available as well like Brightness, Contrast, Blur, Sharpen, Mosaic and more.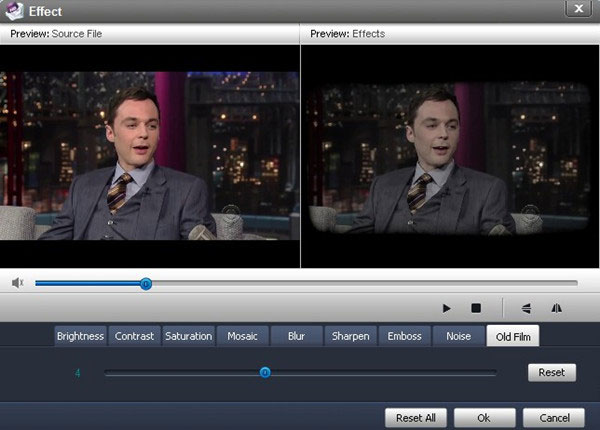 Step 2 – Watermark YouTube Video
1. Click "Add Text" button and another intuitive window will pop up.
2. Type something and click 'Add' button to create the first text watermark layer, now you can see the text watermark on the preview window.
3. Drag the timeline pointer to the starting point and click "Add Key "button. In the same way, drag the timeline pointer to where you want the sentence disappeared, and set its opacity to zero. (How much time these words show on the video? It all depends on you.)
4. Press "OK" button. And let's go to the last step.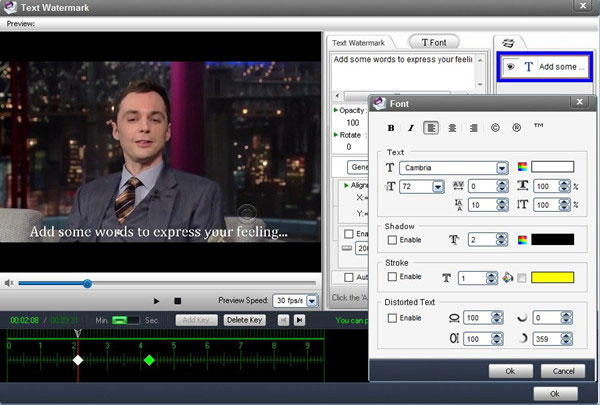 Note: At this step, you are provided with three types of watermarks including text watermark, image watermark and shape watermark. Here I'll try to add text watermark as an example. You can try another two later.
With this video watermark, you can add text to YouTube and also add picture to YouTube. Moreover, you are allowed to add new text/image layers and batch watermark videos to save your time.
Step 3 – Select Output Folder
Click the big blue "Run" button. You need to choose an output folder and then get started by clicking the small "Run" button.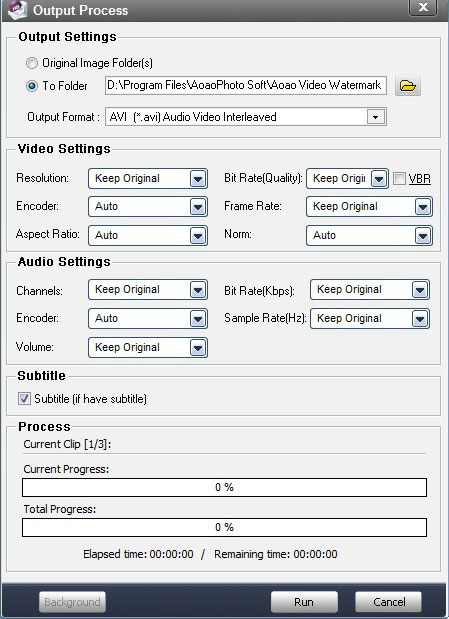 Note: Actually, you have control over video settings and audio settings. Meanwhile you are capable of converting your home videos between all pop video formats such as AVI,MP4,MKV,MOV,WMV,FLV etc instead of keeping their original formats.
Now, I hope this tutorial can really help you.
Related Software - 4.5 Star Rated by CNET Editor
Aoao Watermark for Photo –4.5 Star Rated by CNET Editor is an easy-to-use photo watermark software program which provides professional photo protection solutions for your digital photos. It's the best effective way to protect your photo's copyright. You could see the whole review of Aoao Watermark for Photo written by CNET's editor here.With Aoao Watermark for Photo, you can add text to photos or add image to photos,or even convert image format.
Try & Buy
The Limitation of Free Trial
1. The unregistered version will put watermark on output photos.
2. No expiration.
3. No functional limitation.