How to Add Image Watermark to Photos
Get latest version of Aoao Watermark.
Aoao Watermark getting started
View Detail of Aoao Watermark
What is Image Watermark?
Do you want to add image watermark to your digital photos in order to protect photos' copyright? If your answer is yes, you might be interested in this guide, which will walk you through how to watermark photos quickly and easily with the best image watermarking software. All of your great photos will be branded with your signature effortlessly.
Image watermark is really a special mark image that could be embedded into digital photos. This mark image could be designed at the will to make your images or photos unique. You will find some types of mark image for example transparent, company logo design, personal features.
The copyright information applied on your photo will display the original author of these images no matter who shared it and then your photos will be protected from unauthorized using. Now, more and more people use image watermark to protect their photos, how about you?
Find the Easiest Image Watermark Software to Create Image Watermark
If you are professional photographer or graphic designer and have a professional photo editing program, you can create image watermark very easily and quickly. But most people do not know how to handle that professional photo software, so a good watermark program is necessary to help people watermark photos with simple steps.
Google Image Watermark Software, you will find a lot of watermarking programs. Among them, Aoao Watermark software is the best one when it comes to rich features and intuitive interface. It is a straightforward program which allows user to easily apply watermarks (text, image, logo and more) to your images within a user-friendly environment. Download a free trial to get started now!

How to Add Image Watermark to Photos?
Step 1 Launch Program
Click to download Aoao Watermark Software, and then launch it. Choose the image you want to add watermark, click "Next" to go to editing interface.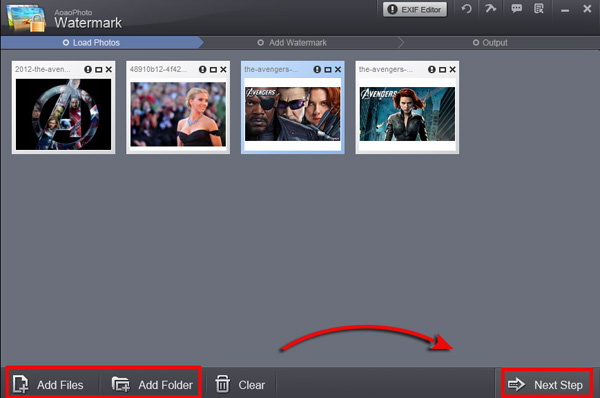 Step 2 Add Image Watermark
① Select an existing image watermark or click "Browse" to load a new image watermark from your disk.
② Then you can inverse proportion setting, you can set watermark width, high with separate or lock.
③ Adjust value of "Opacity" and "Rotate". Adjust "Alignment" - position of watermark over the photo. You can also drag text watermark in preview window to change its position.
Specify "Single/Title". Click "Apply" to apply what you made and you can go to step 3.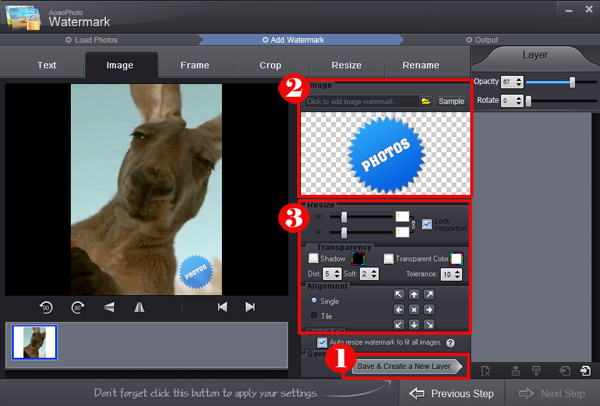 Step 3 Start Watermarking Your Images
Hit "Next" button, you will come to export interface.
Specify output folder and output format.
Click "Run" to start processing watermark.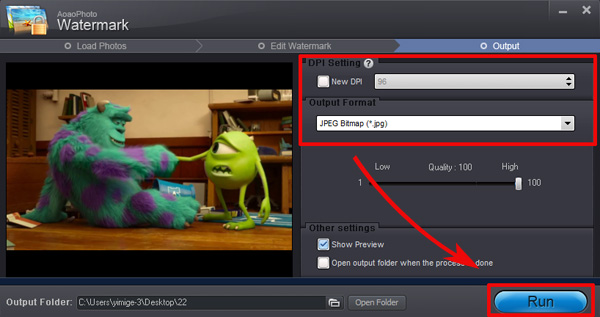 If you want to add image watermark to your photos, click here to learn more>>
Sample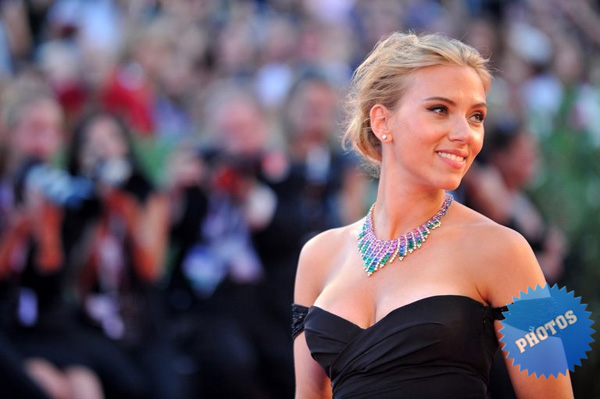 Try & Buy
The Limitation of Free Trial
1. The unregistered version of Aoao Watermark will put "DEMO" watermark on output photos.
2. No expiration.
3. No functional limitation.