Best Photoshop Alternative: Makes Watermark Multiple Images Quickly and Easily
Get latest version of Aoao Watermark.
Aoao Watermark getting started
View Detail of Aoao Watermark
Find the best Photoshop alternative and share it with you all.
To watermark or not to watermark, is that the question? I've read plenty of posts full of the web regarding whether or not images should be watermarked before put online. Both sides hold good ideas but I'm still on "should watermark" side.
Why Should We Watermark Photos?
How many times has this horror happened to you? You spend lots of time and effort on your work and share them on your blog, social network, but one day find that your photos are used on other sites without your permission and attribution. Or even worse some people just take the credit for the photos, not you! You may regret not adding some watermarks on your photos.
Why Do We Need the Best Photoshop Alternative?
Photoshop must be one of the best photo editing programs up to now. With Photoshop, you can do whatever you want to enhance your photos, including watermarking photos. However, it could be somewhat hard to handle Photoshop with ease, especially for those who don't have certain experience. Certainly, you can turn to videos or related articles. But why not employ an easier and faster way to accomplish watermarking task?
What is the Best Photoshop Alternative?
To save you time finding out the best alternative to Photoshop, here I highly recommend Aoao Watermark for Photo. It lets you easily add watermarks including EXIF data to multiple images with just a few clicks. You can control the watermark opacity, position, shadow, font, color and more. Moreover, with one app, you are able to batch resize, rename, crop photos as well as save watermark templates for future use. Everybody can download this easy-to-use and versatile Aoao Watermark for Photo to have a free try!
Watermark Multiple Images with the Best Photoshop Alternative in Simple Steps
There are plenty of Photoshop alternatives windows programs. Here I want to show you all why this one can be the best alternative to Photoshop.
The 1st Step: Download Aoao Watermark for Photo and install it on my computer. The install process is clean and fast.
The 2nd Step: Open the program; you can see a very user-friendly interface as is shown in the image below. Click "Add Files" or "Add Folder" to import your works into it. And I also find that it supports users to directly drag pictures into the program.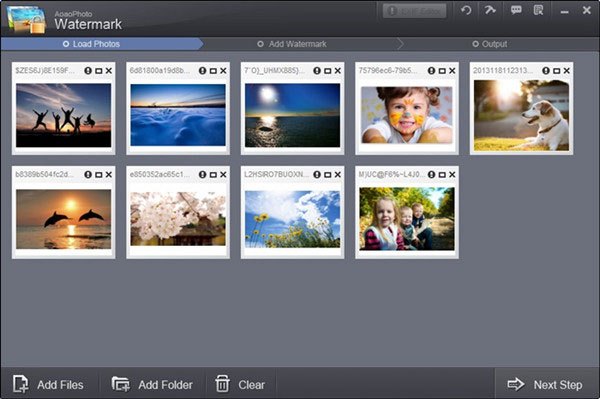 The 3rd Step: Simply hit "Next Step", you come to the Watermark interface. Here you can add text, image, frame, logo, signature, copyright symbol, etc to all the photos.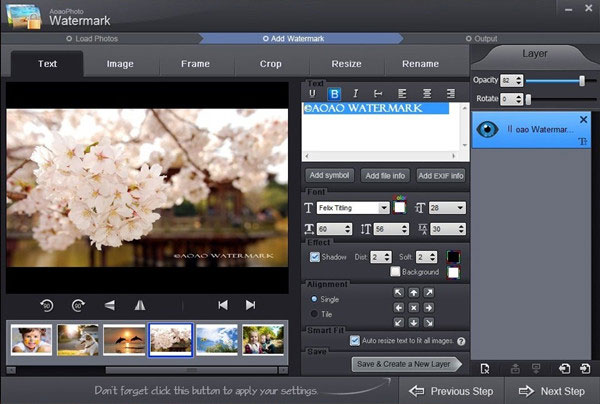 Note: Select the "Smart Fit" item: Auto resize watermark to fit all images.
The final Step: Hit "Next Step" and choose a proper image format if you want to change the original formats. Or just keep original format. Simply click "Run". Done!
Conclusion:
With the alternative to Photoshop, watermarking is simple enough for everyone. And I really like its perfect performance. If you think it difficult to navigate Photoshop, Aoao Watermark for Photo must be the first choice!
Try & Buy
The Limitation of Free Trial
1. The unregistered version of Aoao Watermark will put "DEMO" watermark on output photos.
2. No expiration.
3. No functional limitation.