Get latest version of Aoao Watermark.
Aoao Watermark getting started
View Detail of Aoao Watermark
Sharing images on the internet is so cool. You can share your happiness or ideas with others. But it does have a downside - copyright theft. In order to protect photos online, you'd better add watermarks to them. Today, I'll give you some useful tips on how to add image to GIF quickly and effectively. You don't need to learn the powerful but complex Photoshop. I could recommend you with an ideal watermark tool here.
Aoao Watermark for Photo - 4.5 star rated by CNET editor will help you a lot. You can read CNET editor's review here. Follow the steps below.
Step 1 – Launch Aoao Watermark for Photo and Add a GIF Image (Secure Download)
1. First install Aoao Watermark for Photo and launch it.
2. Add a GIF image by clicking "Add Files "button.
3. Click "Next" button to step 2.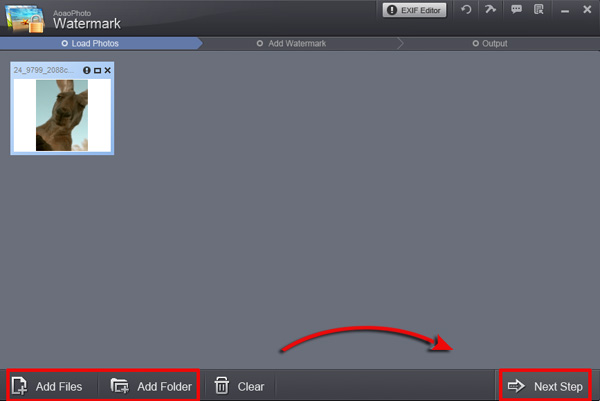 Step 2 – Click "Add Image" Button to Add Image to GIF
1. Click "Add Image "button and begin to customize your own watermark. You can also add words to picture.
2. Hit "Browse Image Watermark "button to choose one or more from the watermark library, which now contains 150 + free watermark materials.
3. Click "Apply "button to make the image watermark here available.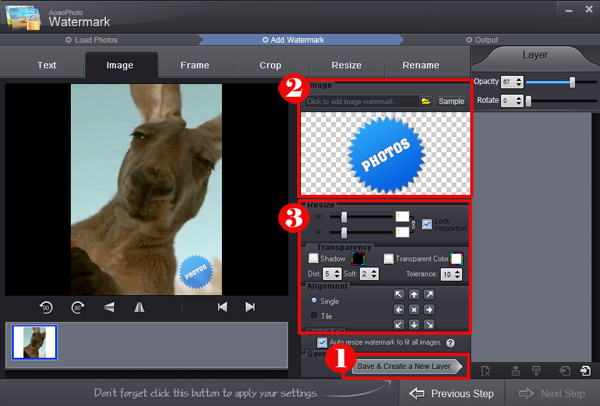 Note: Aoao Watermark for Photo supports you to add more than one image layer. That means, you can add different image watermarks on one photo just like the picture above. Apart from that, controlling the opacity of these watermarks is so cool. You can see that I have changed the second watermark's opacity to 60.And also changing image watermark size is OK.
And don't forget that you can batch resize pictures and batch watermark them.
Step 3 – Select Output Folder
1. Click "Next" button. You'll see another window.
2. Select an output folder and choose the item "Keep Original Format".
3. Press the big blue "Run "button and start watermarking process.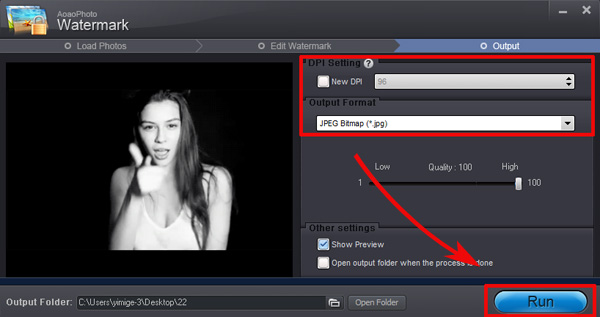 Note: If you want to change your photos' original format, Aoao Watermark for Photo can also satisfy you. You can convert your photos to various formats, such as JPG, BMP, TGA, PCX, etc.
Do You Like the Tutorial?
Hope that this article can really help you all. Aoao Watermark for Photo is marvelous photo watermark software with batch processing. It helps you add text or image watermark to your pictures at one time and enables you to convert your photos' original format as well. If you really like Aoao Watermark for Photo, click here to learn more information!
Try & Buy
The Limitation of Free Trial
1. The unregistered version of Aoao Watermark will put "DEMO" watermark on output photos.
2. No expiration.
3. No functional limitation.