How to Add Logo to Video in Batch?
Latest version of Video Watermark Pro.
Video Watermark Pro getting started
View Detail of Video Watermark Pro
Nowadays, more and more people like to upload videos online. Some create their own short films or record family videos and then share them on some famous video sharing websites like YouTube with friends and relatives. Some upload their art works to receive comments from others. And there are even companies sharing videos of their products to get more clients. All the purposes are quite good. But putting your videos without any signal which shows they belong to you is terrible. Someone will steal videos from you effortlessly and let others think they are actually theirs.
I saw a question asked by an artist the other day. He asked that how to protect his video art works as he would upload them online. I believe there are people still being worried about such issue. So today I'll help you to learn how to add logo to video or how to watermark videos in batch.
First you'd better download an easy-to-use video watermark tool – Aoao Video Watermark Pro. This is a free secure trial which enables you to add logo to video in batch easily and edit your videos as well.
Step 1 – Launch Aoao Video Watermark Pro and Add Video Files
Download and install this video watermark software on your PC and then open it.
Hit "File" button and then click "Add Files" button. This step shows as the image below.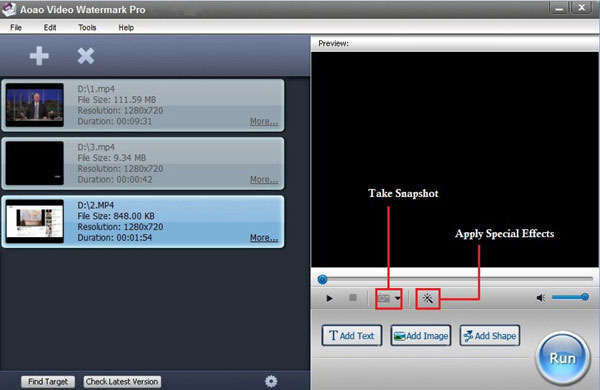 Note: You are supported to add some special effects like Brightness, Blur, Mosaic, Sharpen, Old Film, etc to retouch your videos before watermark them. Moreover, you can capture pictures from videos and convert them to the image format you like such as JPEG or BMP.
Step 2 – Customize Your Logo with Ease
Click "Add Image" button and another intuitive window will pop up.
Hit 'Add' button to create the first watermark layer, now you can see a logo on the preview window. It's a blue umbrella.
Hit "Add Key "button to control when the logo appears or disappears. (If you do not want it showed on the video all the time, you can solve this issue with the powerful timeline editing function. By clicking "Add Key" button, everything can be accomplished well.)Finally add "OK" button.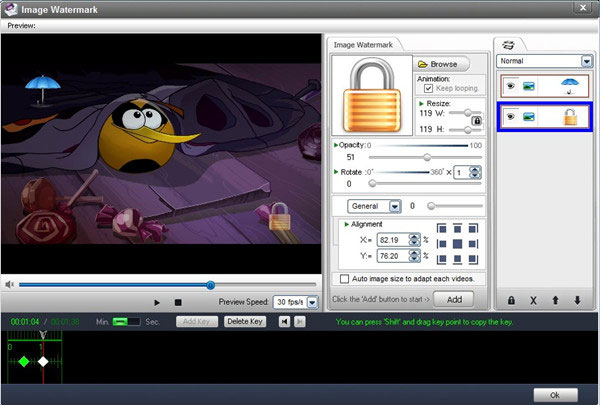 Note: Aoao Video Watermark Pro lets you add more than one image layer to fulfill your demands better. That is to say, you can add several layers and are capable of overlaying different image watermarks on each layer. The second logo – a little lock is an example. And what's more, you can control the opacity of your logo just like the second logo – a little lock. I change its opacity to 51%.
Apart from adding logo to video, you can add text to video as well.
Step 3 - Start to Add Logo to Video
Click the big blue "Run" button. You need to select an output folder and then get started by clicking the small "Run" button.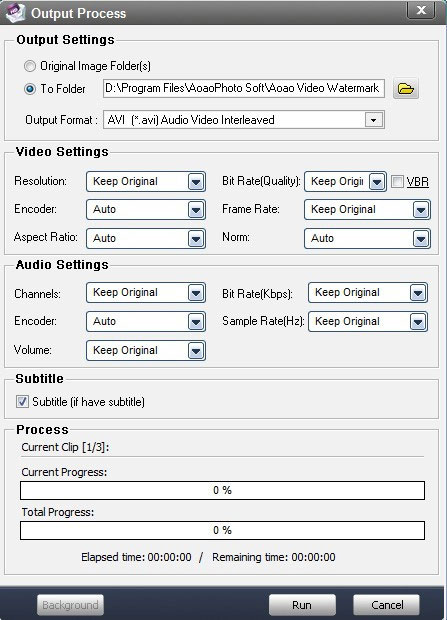 Note: Actually, you have control over video and audio settings. That means you can change video resolution, audio channel, and so on. Meanwhile, you are supported to keep subtitle or just hide it. Besides, converting video format is also available. Aoao Video Watermark Pro supports a wide range of video formats like AVI, MP4, WMV, MOV, FLV, SWF and more.
Try & Buy
The Limitation of Free Trial
1. The unregistered version of Aoao Video Watermark Pro will put watermark on output photos.
2. No expiration.
3. No functional limitation.