How to Add Words to Image in Simple Steps?
Get latest version of Aoao Watermark.
Aoao Watermark getting started
View Detail of Aoao Watermark
Nowadays, more and more people tend to upload their photos or pictures to the sharing websites. It's exactly a great way to share your family story with others. And it's also a simple way to help company make their products known by the public.
But there is a problem. That is, how could you ensure that your family pictures will not be 'borrowed' by someone, or your products image or information won't be stolen and considered as others' work. So the most important step before sharing your pictures online is to watermark images.
This article will teach you how to add words to image or in other words how to add text to image.I believe you can learn a lot from it. In the mean time, you can get to know a powerful but still simple to use watermark tool as well. Aoao Watermark for Photo provides the professional image protection solution for you to share photos - ZERO image quality loss and faster speed. Now let's learn how to easily add words to image to protect our online property.
First of all, you need to download Aoao Watermark for Photo with one click here.
Step 1 – Add Image Files
First open Aoao Watermark for Photo and Click the "Add Files" button to input some of your pictures. You'll see the image below.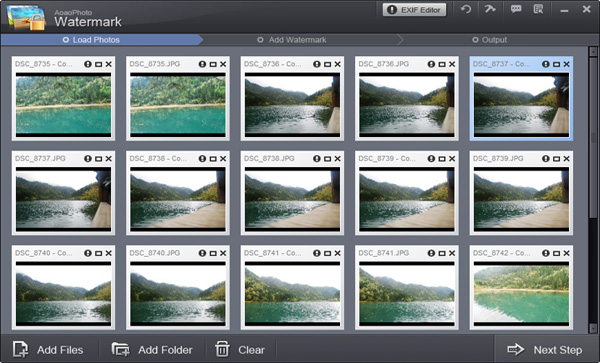 Note: It's very easy for you to see the detailed information about the image such as the image size and the image type.
Step 2 – Add Words to Image with Ease
Click the "Next" button and you'll see another interface at once.
Press the "Add Text" button and type some words in the blank. After that you can now control text setting like the font size, the font color add other text effects to retouch you text watermark.
Hit the "Next" button to step 3.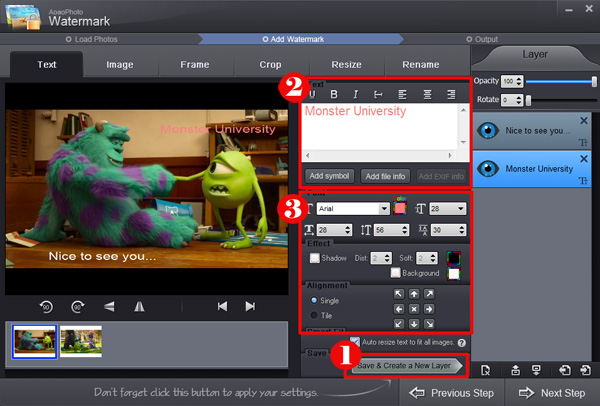 Note: If you want to make you text watermarks different, you can also change the opacity of watermarks or just rotate the words. And there are other functions as well. You are allowed to add image watermark to photos or add special frames to photos or even remove watermark with this tool as well as batch rename or resize pictures.There are many useful functions that you can find out.
Step 3 – Start the Whole Watermarking Process
Finally we go to the last step. At this step you can do more instead of watermarking images only. That means you are able to easily convert original image format such as converting image to JPEG or converting image to GIF and more.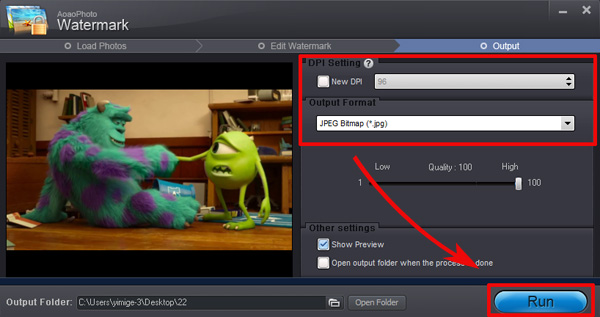 About Watermark
A watermark is a visible embedded overlay on a digital photo consisting of text, a logo, or a copyright symbol. The purpose of a watermark is to identify the work and discourage its unauthorized use. A visible watermark can't prevent unauthorized use, but it makes it more difficult for those who may want to claim someone else's photo or art work as their own.
Try & Buy
The Limitation of Free Trial
1. The unregistered version of Aoao Watermark will put "DEMO" watermark on output photos.
2. No expiration.
3. No functional limitation.
Related Articles
Aoao Video Watermark Pro enables user to embed text, image, logo, sign (including animated one) to your videos in batch. It's easy to use and also powerful. Download a free Aoao Video Watermark Pro.
Aoao Video to Picture Converter
helps you easily convert video file like
AVI, MPG, WMV, MKV, MOV, MP4, 3GP, RMVB
to picture files like
JPG, GIF, BMP, TGA, TIF, PCX, etc
. You can also capture single picture from video.
Converting YouTube video to GIF is also available
.Here you are able to
download a free Aoao Video to Picture Converter
.