How to Put Text to GIF with a Powerful Animated GIF Editor?
Get latest version of Aoao Watermark.
Aoao Watermark getting started
View Detail of Aoao Watermark
When you search on the Internet, you can find so many results that teach you to create a cool GIF image. But it's difficult to read an article focusing on how to put text on GIF. Luckily, this time you come to the right place. When you read the step-by-step tutorial all, you'll be exactly an expert to add text to GIF. And before that, we should talk about why we need to add text to GIF.
Why Put Text on GIF?
You create a GIF image and would like to share it on your blog, Facebook with friends and others. It's cool! But you can really do more – Put some meaningful text on GIF images or Watermark GIF with your name or signature. I noticed that a GIF image with text showing what the creator thinks about attracts more audiences and can be funnier. What's more, to protect your online images not to be duplicated or used without your authorization, you can watermark your GIF images before uploading them online.
Tips for a Wonderful Animated GIF Editor
Usually when we mention image processing tool to accomplish the watermarking task, it's always Photoshop. Yes, Photoshop is powerful. However, it's really inconvenient as you have to know some specialized knowledge. Here an alternative to Photoshop is suggested – Aoao Watermark for Photo. This watermarking program is rated a high 4.5 score by CNET editor. It easily helps you add any words or logo to GIF images which is simple enough for everyone. You can also resize pictures, batch rename photo files or crop pictures for better organization with a few simple steps.

Download and install this useful easy-to-use tool. Use it to edit GIFs. It will be the most incredible experience!
Full Guide on How to Put Text on GIF
Step 1 – Add GIF Image Files to this Animated GIF Editor
Open Aoao Watermark for Photo and then you'll see a user-friendly interface.
Click "Add Files" to input the GIFs that you want to add meaningful words or just watermark.
Hit" Next" and let's move to step 2.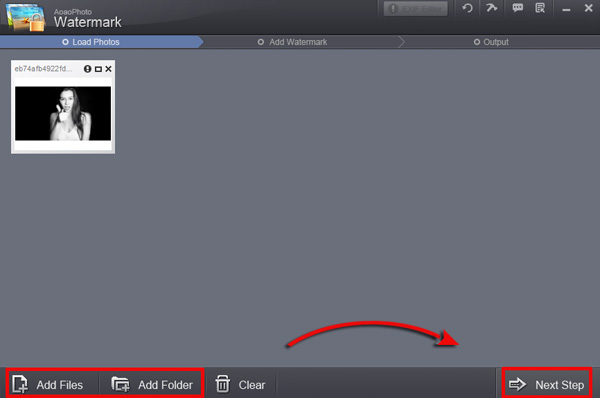 Note: You are also allowed to import a folder with pictures if you really need.
Step 2 – Put Text on GIF with Customized Settings
Type some a piece of text in the black box. And then you can set the T-font or shadow it or make the words in bold and more.
Click "Apply" to create the text watermark layer.
Hit "Next".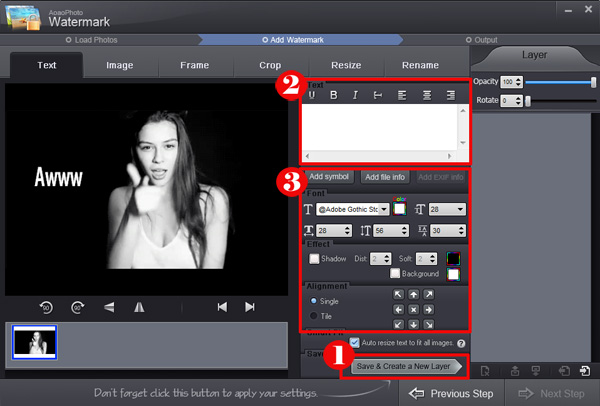 Note: Aoao Watermark for Photo also enables you to control the opacity of the text as you like. Meanwhile, you can position it wherever you want.
Step 3 – Choose an Output Folder
At this step, you need to choose an output folder to better organize your GIF files.
And if you want to convert image formats, this tool can also be a powerful image converter. It supports to convert image to all pop image formats including JPG, BMP, PNG, TIF, PCX, etc. (Optional)
Press "Run" to start the putting text to GIF process. It will be finished immediately.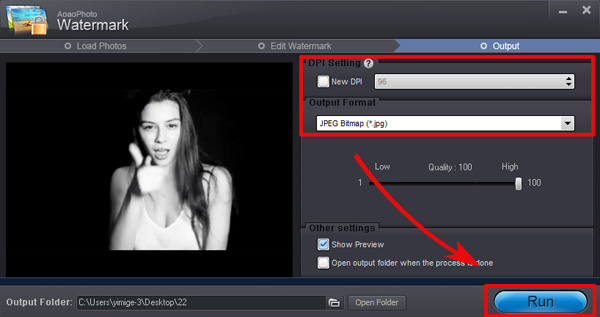 Sample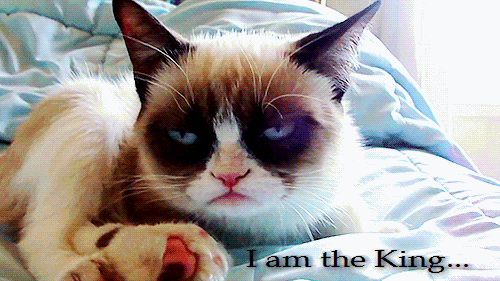 Want to Know More about this Animated GIF Editor?
Apart from putting text on GIF, Aoao Watermark for Photo can do more. It is professional photo watermark software but do not require you to learn specialized skills. With it, you can add image watermark to photos or add cool frames or even remove watermark and then create new. Batch watermarking your pictures or saving watermark as template is also available.
Try & Buy
The Limitation of Free Trial
1. The unregistered version of Aoao Watermark will put "DEMO" watermark on output photos.
2. No expiration.
3. No functional limitation.