How to Add Words or Text to Animated GIFs Effortlessly
Get latest version of Aoao Watermark.
Aoao Watermark getting started
View Detail of Aoao Watermark
Q: I want to make a parody of a GIF image but I don't know how to add words directly on a GIF image without having to turn the GIF into a JPEG. Is there any program can help me do that?
Animated GIF file is an image file, which contains a number of images or frames in a single file. The frames are presented in a specific order in order to convey animation. Creating animated GIFs is much easier and funny to present dynamic content than other tools like Flash but animated GIFs are smaller in size and thus faster to display. That's why animated GIFs are so popular on the Internet.
More and more people add words on animated GIFs to make it more interesting than before and even create totally different effect from original image. But you might hold the same question mentioned above – how to add words directly on a GIF image without having to turn the GIF into a JPEG? Here a good GIF editing program is needed if you want to add text to GIF in order to get it different and funny from others. Aoao Watermark Software is a program just meets your needs. It can help you to add text/words to animated GIF with ease. Aoao Watermark Software is also an easy-to-use photo watermark program which provides professional photo protection solutions for your digital photos.

How to Add Words/Text to Animated GIFs with Aoao Watermark?
Step 1 Load Source GIF File
Download Aoao Watermark Software and install in on your computer. After launch this software, hit "Add Files" button to load your source GIF files. Then click "Next "button to go to step 2.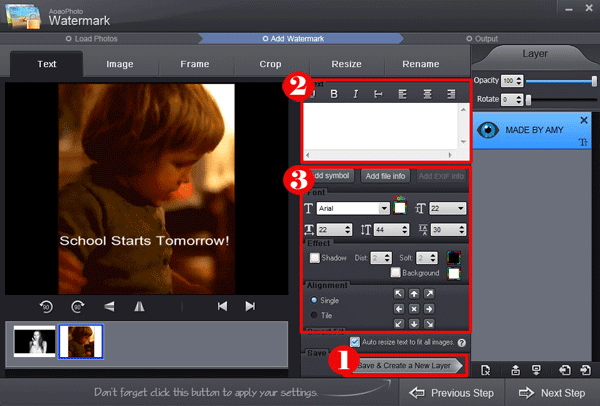 Step 2 Edit Text/Words Added on GIF
Press "Add Text "button to jump to Text Watermark interface.
①At first you need to click "Apply" to add a new text layer so that you can edit your text on the layer.
②Then type text in the blank. If you want to change the default setting of font, just click "Text Setting" button where you can choose different font, change font size as well as set font color.
③The option of "Opacity", "Rotate" and position of text can also be changed if need.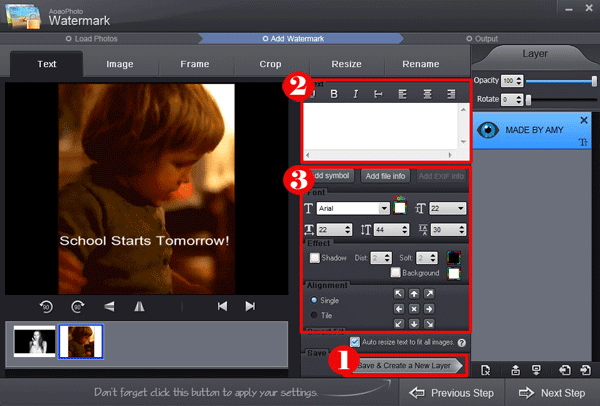 Step 3 Start Processing
When you finished all the settings, just click "Next", you will go to the final step. Select destination folder and output format you need and then click t "Run" button to start processing. It will take you a few minutes to add words/text on animated GIF. Is that super easy to do? Have a try now!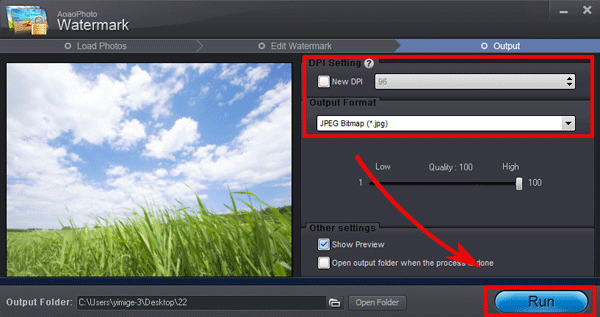 Sample
| | |
| --- | --- |
| Source GIF:  | Output GIF: |
| | |
We can see that from above the source animated GIF just shows the angry emotion of this kid. But after you add words on it you will get a completely different message: this kid goes crazy for it is the last night of vacation!
Is it funny to create such GIFs with words? Get started now to create your own animated work with Aoao Watermark Software!
Try & Buy
The Limitation of Free Trial
1. The unregistered version of Aoao Watermark will put "DEMO" watermark on output photos.
2. No expiration.
3. No functional limitation.