Get latest version of Aoao Watermark.
Aoao Watermark getting started
View Detail of Aoao Watermark
Benefits of Adding Text to Picture
Adding text to a picture is a good way to give your picture more annotations with your name, date, description of picture, copyright notice, no copy, and company name on it. If you put your name on the picture and then upload it to internet, all of visitors will know more about the original author of this picture; If put date on it, it reminds you valuable time after many years; if put description on it, you can make it much more attractive relatively; if put copyright notice on a picture, it's effective as well as strong way to avoid anyone using your picture without your approve; if put your company logo on the picture, it will help company gain exposure as a real free advertisement.
Adding text to a picture can let you express a lot and make this picture personalized. Why not get started now to watermark your pictures, make picture downloading and copying more difficult, and brand your photography works?
Can I Add Text to Picture Easily and Quickly?
From above we can see that, there are a lot of advantages if you add text to your pictures. But for those who are new to watermark, it could be a little bit troublesome to make watermark by themselves. How to add text to picture easily and quickly becomes the first thing we need to solve. In fact, a good watermark software program can be a big help. Here I recommend an easy-to-use program - Aoao Watermark, it provides professional image protection solutions for your digital photos. Allow user to put watermarks (text, image, logo, etc) to picture, and avoid these pictures from unauthorized using and sharing.

How to Add Text to A Picture?
Step 1 Load Pictures to Aoao Watermark
Download and run Aoao Watermark for Photo. On the main interface, click "Add Files" to add photos to program, and then click "Next" button to go to Step 2.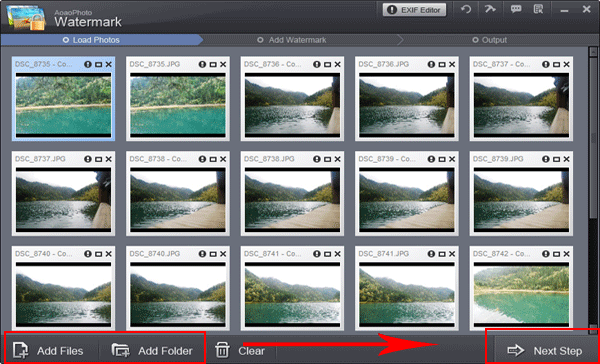 Step 2 Add Text Watermark
After you click "Next", you will come to editing interface. Here we will take text watermark as an example.
1. Input text in blank box at the upper right of interface.
2. Then you can modify more about font size, character style, color, etc by clicking "Text Setting".
3. Adjust value of "Opacity" and "Rotate". Adjust "Alignment" - position of watermark over the photo. You can also drag text watermark in preview window to change its position. Specify "Single/Title". Click "Apply" to apply what you made and you can go to step 3.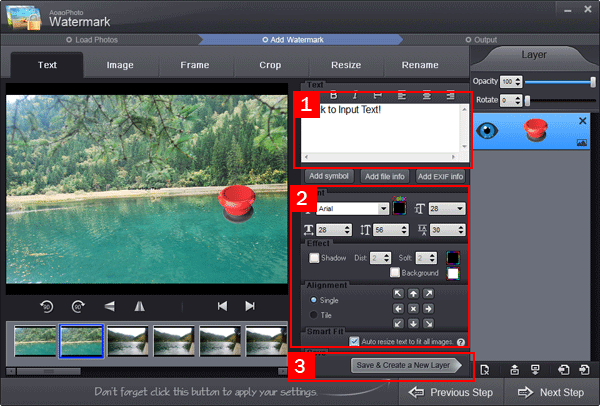 Step 3 Batch Watermark Your Images
Hit "Next" button, you will come to export interface.
Specify output folder and output format.
Click "Run" to start processing watermark with fast speed. Converting 100 photos just need 1 minute.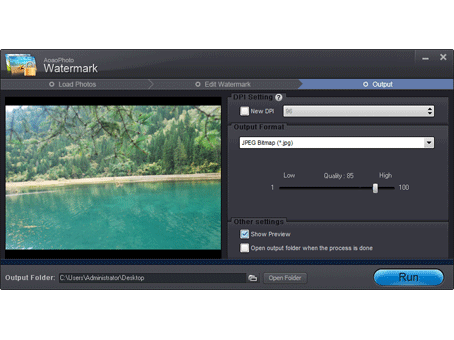 Less than a few seconds, the whole process will be completed.
Try & Buy
The Limitation of Free Trial
1. The unregistered version of Aoao Watermark will put "DEMO" watermark on output photos.
2. No expiration.
3. No functional limitation.