Get latest version of Aoao Watermark.
Aoao Watermark getting started
View Detail of Aoao Watermark
If you upload or share your pictures on the web a lot, have you ever thought of what will happen to them? Others always have the chance to copy and download your picture and republish it without giving your credit or re-edit your image in a way you never want. So it's time to copyright your pictures if you do care your image works. Adding watermark to picture is fairly effective way to prevent your online pictures from unauthorized copying and using.
What is Watermark?
The original definition of watermark is recognizable image or pattern in paper that appears as various shades of lightness or darkness when viewed by transmitted light, caused by thickness or density variations in the paper. But here watermark we mentioned is visible word or image in picture, which must be digital picture. Picture watermark is commonly used for online picture copyright protection. The watermark can include text, signature, copyright symbols, individual seal, company logo and even animated GIF icon. Every viewer will see your copyright info after you added watermark to your pictures and it's hard to remove watermark from your picture.

Watermark - Show Your Signature or Logo on Your Picture
Maybe you have struggled to find a better way to show yourself or your company. Maybe you would like to let everyone know your artwork. Maybe you want to watermark your photographs before upload them to sharing websites.
Watermarking pictures you want to share online is an easy way to show yourself, which will let every visitor learn more about its original author. Moreover, watermark can prevent your online pictures from unauthorized using.
How to Add Watermark to Picture
Firstly you need photo software like Adobe Photoshop, but here I recommend another easy and cheap photo watermark software - Aoao Watermark.
It is simple and fast photo watermark program provide professional picture protection solutions for your online pictures, the batch mode let you add watermark to 100 pictures within 1 minute. Click below button to download Aoao Watermark and install to your PC.

Step 1 Launch Program
Click to download Aoao Watermark Software, and then launch it. Choose the image you want to add watermark, click "Next" to go to editing interface.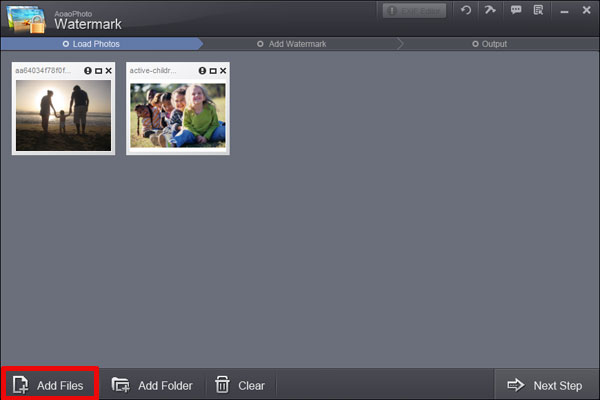 Step 2 Add Text Watermark
(2-1)Input text in blank box at the upper right of interface.
(2-2)Then you can modify more about font size, character style, color, etc by clicking "Text Setting".
(2-3)Adjust value of "Opacity" and "Rotate". Adjust "Alignment" - position of watermark over the photo. You can also drag text watermark in preview window to change its position. Specify "Single/Title". Click "Apply" to apply what you made and you can go to step 3.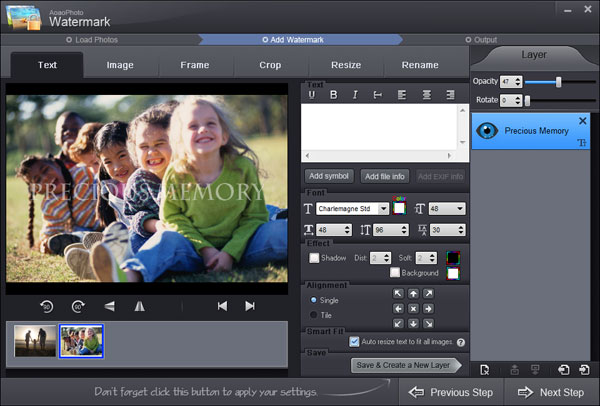 Step 3 Batch Watermarking Your Images
(3-1)Hit "Next" button, you will come to export interface.
(3-2)Specify output folder and output format.
(3-3)Click "Run" to start processing watermark.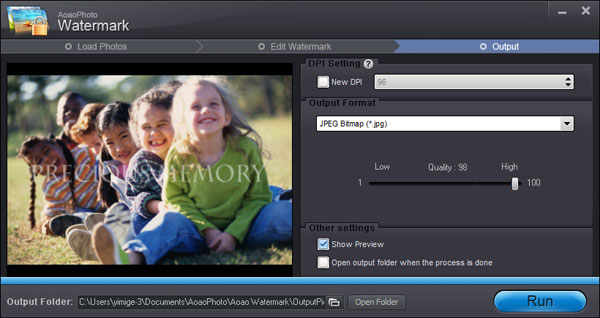 Sample of watermark picture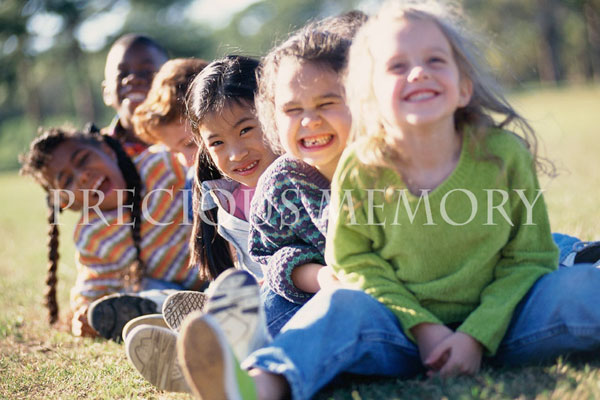 Try & Buy
The Limitation of Free Trial
1. The unregistered version of Aoao Watermark will put "DEMO" watermark on output photos.
2. No expiration.
3. No functional limitation.