Get latest version of Aoao Watermark.
Aoao Watermark getting started
View Detail of Aoao Watermark
Why Add Image Watermark on Photos?
Have you ever used image watermark to protect your beautiful images or photos from bad using on internet? Or have you add image watermark into your photos or pictures to show your special designed icon or idea? If you still did not do these things, why not have a try right now? It's very funny to use image watermark. You can choose whatever kinds of pictures as the image watermark and no matter what kinds of photos you can easily add image watermarks on by using watermarking software program.
If you choose the right watermark software, you will be a master of pictures, maybe the king of photo world. Properly watermark software can help you add special marks and enable you to create funny watermark as you want. Usually, you also can use watermarking software program to edit your photos, or add some special effect on them.
Understand Aoao Watermark for Photo
Aoao Watermark for Phot is professional and all-in-one photo watermarking software program which offers lots of powerful functions for users to protect photos from bad using through internet or show special icon or ideas on photos. You can easily use this photo watermarking software program to add text watermark, image watermark and frame shape watermark on photos. Furthermore, you are available to use Aoao Watermark for Photo to edit photo by adding frame, resize, crop and rename.
How to Add Image Watermark on Photo with Aoao Watermark for Photo?
It's easy and with fast process to add image watermark on photos with Aoao Watermark for Photo. Now, download and install this watermarking software program, and follow the instructions below.
Step 1 Load Photo into Program
Launch Aoao Watermark for Photo, click "Add File" to load photos which you want to add image watermark. Then, click "Next" button to Step 2.
Step 2 Add Image Watermark
Click "Add Image" tag, select watermarking image from source data base or load your any image as watermark by clicking "Browse".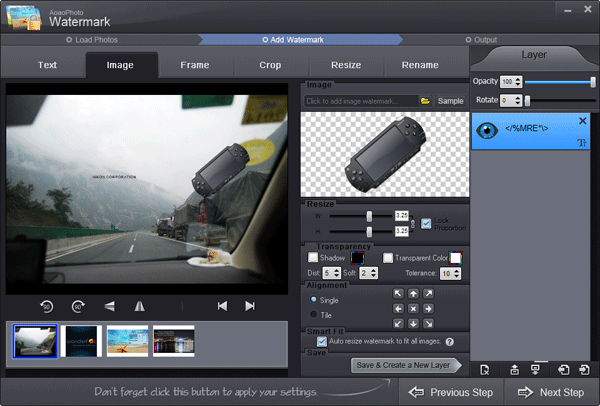 Step 3 Adjust Image Watermark
The simple interface will tell you how to adjust aspect ratio of image watermark (Default: W=1, H=1). Select lock box can bind width and height for your photo. You can adjust Opacity for your need (0-100) and adjust rotate for your need (0-360).
PS: You can choose "General" or "Tile" to place you text watermark on images, general is to place one text on images, tile is to fill full text on images. (Tile is a strong protect copyright mode) alignment setting to control text's azimuth on images.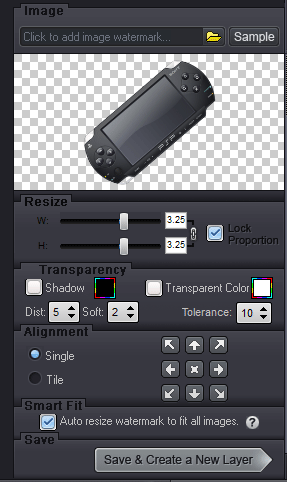 Step 4 Start Image Watermarking Process
Click "Run" button after finish all settings. The watermarking process is fast. The whole process will be within 1 minute even you are watermarking 100 photos.
Try & Buy
The Limitation of Free Trial
1. The unregistered version of Aoao Watermark will put "DEMO" watermark on output photos.
2. No expiration.
3. No functional limitation.