Get latest version of Aoao Watermark.
Aoao Watermark getting started
View Detail of Aoao Watermark
What is text watermark
Text watermark is a translucent and visible copyright symbol. Text Watermark can helps you protect your photo's copyright and verifies your pictures are protected from unauthorized use. you can add your name, company name, date... to images, These are all text watermark.
How to protect images copyright by text watermark?
First, you need a photo watermark software to do it, Aoao Watermark Software is a professional watermark software, better than that all watermark software. Click here to download Aoao watermark software.
Step1, add pictures to list, then click "NEXT" Button.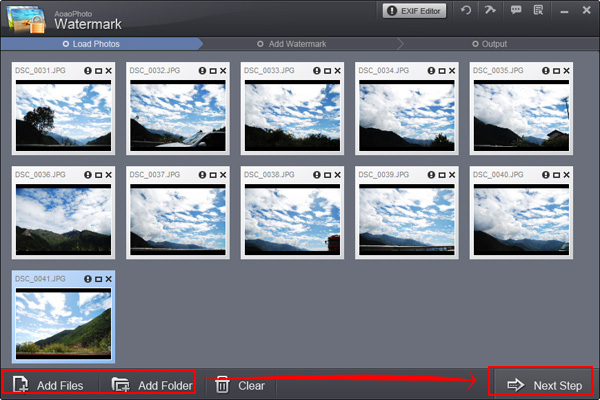 Step 2, input your text and adjust it. you can adjust opacity,rotate, font, text site, color and shadow etc...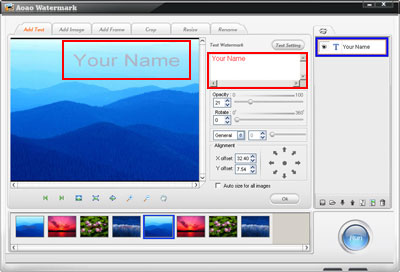 Other Option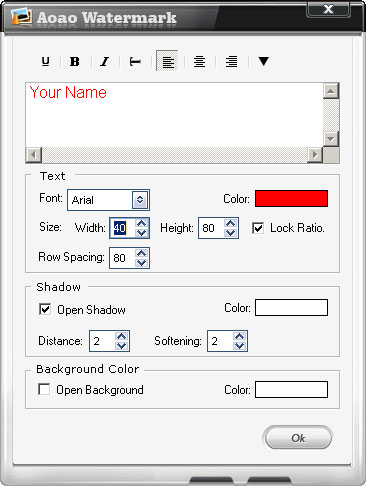 Try & Buy
The Limitation of Free Trial
1. The unregistered version of Aoao Watermark will put "DEMO" watermark on output photos.
2. No expiration.
3. No functional limitation.