Get latest version of Aoao Watermark.
Aoao Watermark getting started
View Detail of Aoao Watermark
What is image watermark?
Do you want to add image watermark to your digital photos for protecting photo's copyright? If yes, you need do that. All of your great photos will be only belong to you.
Image watermark is a special mark image which could be embedded into digital photos. The mark image can be designed at your will for making your images or photos special. There are some forms of mark image such as transparent, company logo, personal features.
Anyone who used your images know that the copyright is yours and no one can steal your photos from unauthorized use. Now, more and more people use image watermark to protect their photos, and you?
Find a image watermark software to create image watermark
If you are professional graphics designer and you have a professional photo software, you can create watermark easily. But most people can not add image watermark with those professional photo software, they need an easy to use image watermark software to watermarking photos.
Typing Image Watermark Software in google.com or yahoo.com, you will find an image watermark software - Aoao Watermark, click http://www.aoaophoto.com/products/watermark.exe to download it, this is an easy to use image watermark software, everyone can create image watermark easily.
How to add image wtermark to photos?
Step1: Add image watermark to photo watermark software.
Launch Aoao watermark software, choose the picture and click "Next" to edit window,. then, click "add image" to image edit page.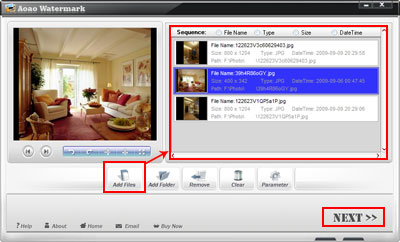 Step2: Create a image watermark
Click "Add Image" tag.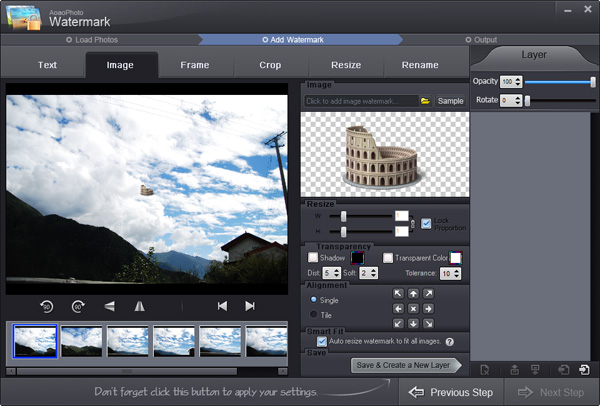 You can select a existing photo watermark or click "Browse" to load a new image watermark from your disk.

Step3: Image Watermark settings
1) Image watermark thumbnail.
2) inverse proportion setting, you can set watermark width, high with separate or lock.
3) Adjust opacity and rotate of the image watermark.
4) Two watermark modes.
General = place a watermark on digital photos.
Tile = A power image watermarking mode.
5) Image Watermark alignment.
6) Activat the box, photo watermark will be auto resize to fit your photo size; disabled the box, all watermarks will be same size.
7) Add a new watermark layer.
8) Delete current watermark layer.
Step3: Click "Run" to apply your setting to your pictures.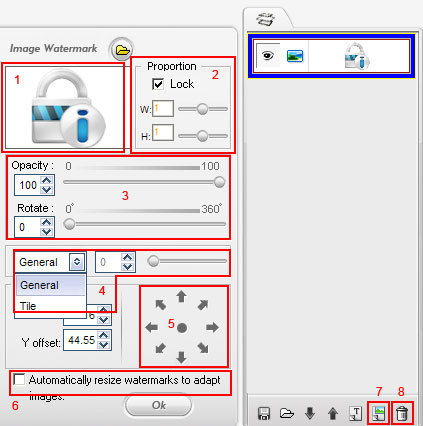 Step4: Save.
Click "Run" to apply your settings to digital photos.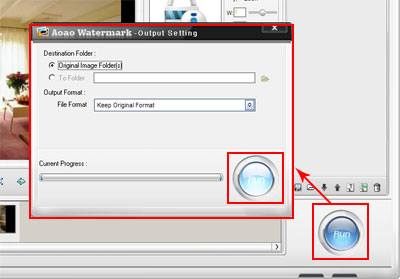 See it here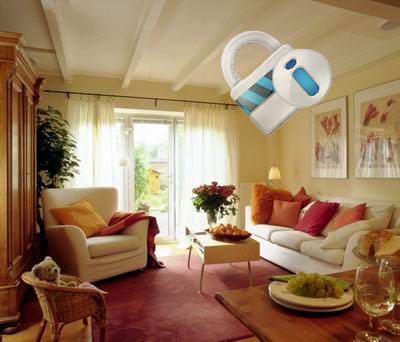 Try & Buy
The Limitation of Free Trial
1. The unregistered version of Aoao Watermark will put "DEMO" watermark on output photos.
2. No expiration.
3. No functional limitation.