Capture Image From Video
Get latest version of Video to Picture Converter.
Video to Picture Converter getting started
View Detail of Video to Picture Converter
Nowadays, the web is full of videos. And more and more people like to download the funny videos or their favorite movies from YouTube, Vimeo, Facebook or anywhere else for convenient playback. You have downloaded your favorite video and are attracted by some part of this video. Maybe it's a sweet view-sweet to your eye and your mind. Or perhaps it's a scene touching you so much that you want to convert it to seriate pictures or even animated GIF image to share with your friends…The reasons are millions but the solution accurate. You can turn to a professional video capture image tool.
If you haven't downloaded this Video to Picture Converter yet, you will never know what an excellent job it can do for you. Aoao Video to Picture Converter is specially designed for users to convert video to picture. Compared with some other similar video capture image tool, it provides the easiest-to-use and fastest way, which can not only help you convert the whole movie file (including any pop formats like AVI, MPG, WMV, MKV, MOV, MP4, 3GP, etc) to any picture format like JPG, GIF, BMP, TGA, TIF, PCX, ICO, etc but also let you have precise control over frame rate setting. That is, you are able to fine tune each frame and choose a single part to be converted. Moreover, you are capable of adding special effects.
ó

Now let's have a look at how to capture pictures from video with this remarkable tool I recommend.
The Most Effective Way to Capture Image from Video
Follow the three simple steps below.
Step 1 – Launch the Converter and Add Video
Launch the program and then Click "Open" to input the video that you want to capture image from.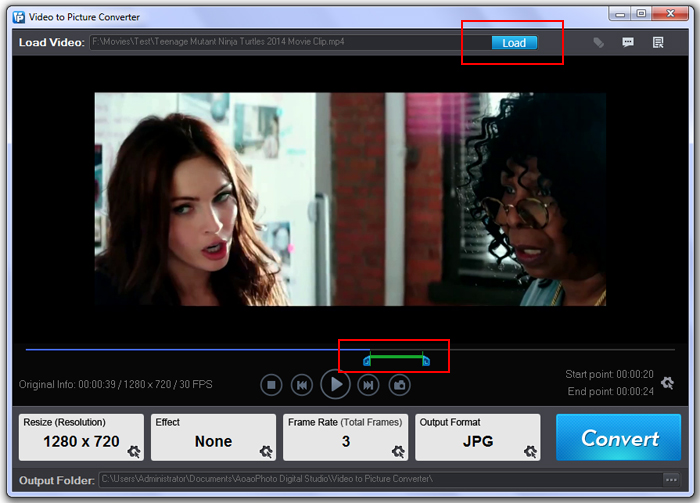 Note: After you add the video, you'll see more detailed information about it, such as the video resolution, total frames, frame rate, aspect ratio and more. All the information may be of use to you.
Step 2 – Capture Image Settings
At this step, we can do some customized settings.
Drag the time-line bar under the video preview window: set the starting time and ending time of the part that you'd like to capture. (It's cool to fine tune each frame.)

Select the option "Serial Pictures" or "Animated GIF". And then set the output frame rate as you like.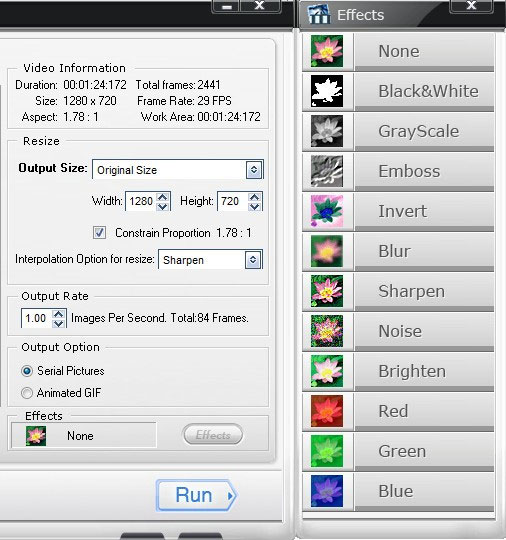 Resize Output image by changing its width and height. (Optional)
Add special effects like Invert, Sharpen, Brighten, Red, Black and White, etc to touch up the images. (Optional)
Step 3 – Choose Output Folder and Format
Click "Run" and you'll see another friendly window for you to choose output folder and format.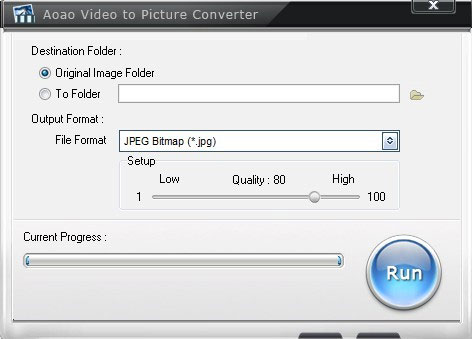 With just a few clicks, the task of video capture image can be accomplished better than ever.
Try & Buy
The Limitation of Free Trial
1. The unregistered version of Video to Picture Converter will put words "Unregistered verion" on output picture.
2. No expiration.
3. No functional limitation.