Video to Image Converter
Get latest version of Video to Picture Converter.
Video to Picture Converter getting started
View Detail of Video to Picture Converter
What can the video to image converter do for you?
The Video to Image Converter full name is Aoao Video to Picture Converter developed by AoaoPhoto, it's a window program that support convert video file to image including seriate images and animated GIF image.
If you like some videos or movies, and you want to capture images from video, ordinary video player or other software can not do it, you need a professional program to convert video to images.
Aoao Video to Image Converter is a easy-to-use program, It has friendly interface, and support most popular video and image formats. Please click the button to download Aoao Video to image converter and learn how to convert video to images.
If you never used the Video to Picture Converter please download it first, free trial without any functional limitations and timeout, but the unregistered version will put words "Unregistered Version" on output file, the license price is $19.90 (30-day money back guarantee). Buy it Now >
Step1: Launch and click

"Open" button to add a video.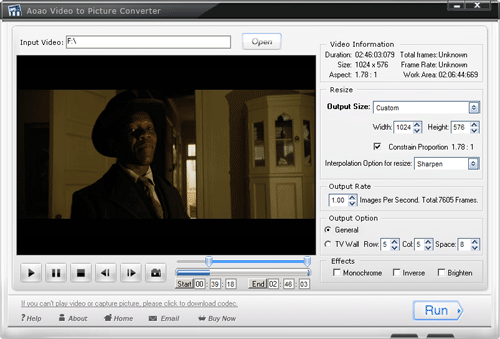 You can click

to playing the video, Click

to capturing a still image.
Step2: Drag

to adjust

to control conversion time, Start is start tme, End is end time.

Step3:

Typing output size here, we provide some popular video size to your choose.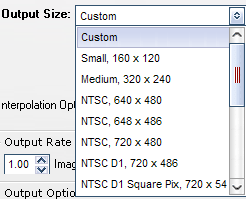 Step4:

Typing a natural number to ajust output frame rate, such as *** images per a second, you can also see total frames. One Frame=One Image
Step5: Click "Run" button to apply your setting in the video to photo converter.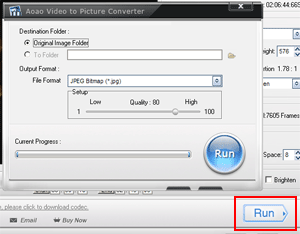 Here you can choose Destination Folder and output image format, click "RUN" to convert video to images.
Try & Buy
The Limitation of Free Trial
1. The unregistered version of Video to Picture Converter will put words "Unregistered verion" on output picture.
2. No expiration.
3. No functional limitation.