MPEG to JPG Converter
Get latest version of Video to Picture Converter.
Video to Picture Converter getting started
View Detail of Video to Picture Converter
Aoao Video to Picture Converter is a powerful software that for mpeg to jpg and other image formats from AoaoPhoto Digital Studio that specializes in develop and research digital photos.
It is the professional video/picture converter that converts MPEG, AVI, WMV, DVD, VOB and ASF. Convert MPEG-1, MPEG-2, MPEG-2, MPEG-4 to JPEG file. With a easy to use interface you can split a MPRG file and save it into JPEG. You also may change the outputsize, frame rate, and effects the output JPEG file.
If you want to capture a jpeg file from your mpeg files, please download it , the tool supports most video and image formats.
If you never used the Video to Picture Converter please download it first, free trial without any functional limitations and timeout, but the unregistered version will put words "Unregistered Version" on output file, the license price is $19.90 (30-day money back guarantee). Buy it Now >
Step1: Launch and input MPEG file.
Click

and select MPEG format.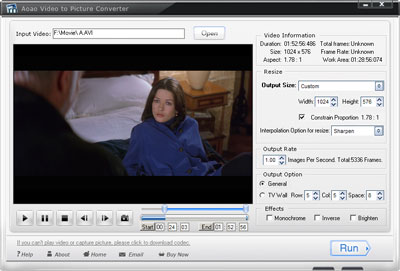 Step2: Drag

to adjust time length for output.
You can manual type a time or Drag

to adjust the timeframe.

Step3: Select a size or manual type a size.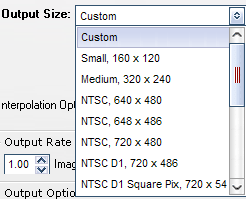 Step3: Run. Click Run to apply to convert your MPEG to jpeg.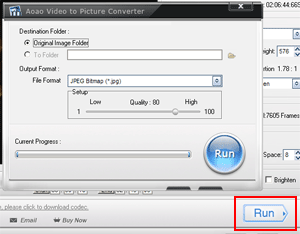 Tips:The MPEG to JPEG Converter supports these image format to output.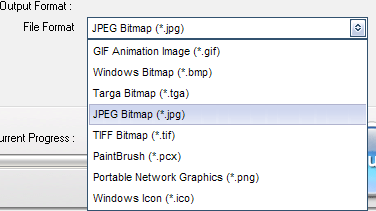 Try & Buy
The Limitation of Free Trial
1. The unregistered version of Video to Picture Converter will put words "Unregistered verion" on output picture.
2. No expiration.
3. No functional limitation.