How to Watermark Flickr Photos in One Go?
Get latest version of Aoao Watermark.
Aoao Watermark getting started
View Detail of Aoao Watermark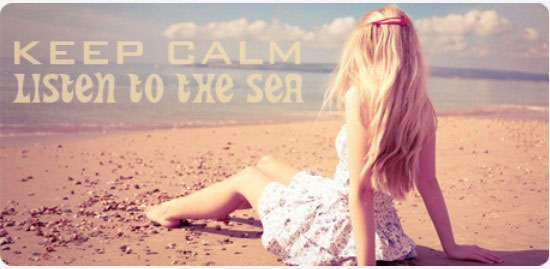 How do I put a watermark across all of my photos before uploading them to Flickr? Is there a simple way to watermark Flickr photos in batch?
I would like to protect some of my pictures but need advice. What's the best program for watermarking? Or how to find a good Flickr watermark tool.
Recently, I found many Flickr users asking one similar question. That is how to watermark Flickr photos with a simple action. Nowadays, more and more people are used to uploading and sharing photos or homemade videos on media-sharing websites with their family and friends or the whole world. They show talents or ideas to others and show off beautiful images.
However, it could bring bad effects, sharing your works online like Flickr, like Picasa. You put a lot of time and energy into your pictures. But one day, you suddenly find that your own pictures was stolen and used without attribution. And even worse, someone just makes money without your permission. What a horrible thing! You need to protect your ownership of your hard work by watermarking.
4 Features of the Good Flickr Watermark Tool
Here I want to highly recommend you with a good photo watermark tool – Aoao Watermark for Photo, which is regarded as the best photo watermark software on the market by far.
Ease of Use, UI
With a cool black friendly interface, it's simple as A B C to get started. The whole process goes as: Load Photos-Add Watermark-Output. I'm able to import a whole image folder or even add images by the drag-and-drop function and double-click to preview photo. It is no exaggeration that the program gives me a positive first impression.
Flexible Photo Editing Functions
This watermark software can watermark pictures in 2 ways (Text and Image).Besides, cropping, resizing and renaming is also supported as key features.
Batch Mode
I always upload a group of pictures at one time. So batch watermarking is necessary. This software supports smart batch mode, which can watermark 500 pictures in less than 1 minute. That saves me lots of time.
Extra Features
It allows me to apply various frames to touch up some of my photos. And converting image to other formats is very convenient. The supported output formats include JPG, BMP, GIF, TGA, PNG, PCX, etc.
That auto resize watermark to smart fit images with different sizes is very user friendly.
How to Use the Flickr Watermark App to Watermark Flickr at Once?
Well, the following is a step-by-step guide on how to batch watermark pictures and save your favorite watermark template for future use.

Preparation: First make sure that you have downloaded the app. Now install it. You'll find the installation is very clean. Keep reading.
The 1st Step: Run the app and add images by clicking "Add Files" or "Add Folder" button or drag-and-drop.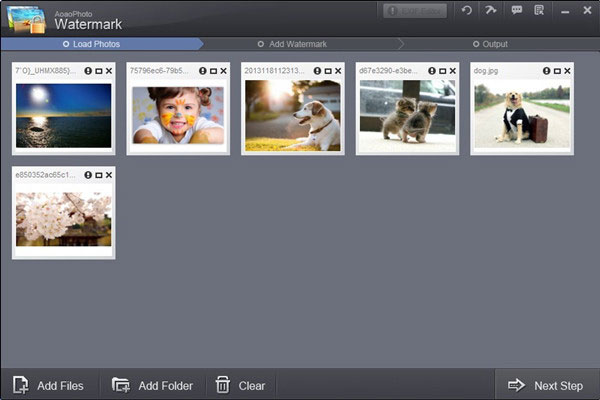 Hit the "Next Step" button to move on.
The 2nd Step: Now you can see that 6 main functions are added on the interface. Here I set "Text" item for example. I created 3 text layers. And in each layer, I typed different words with different effects.
Tips: Actually you can add text and image watermark to your pictures as you want. It could be your name, your company logo, your signature and any more to show who these pictures belong to. One of the most useful ideas is that you can save the watermark setting as a template for future use.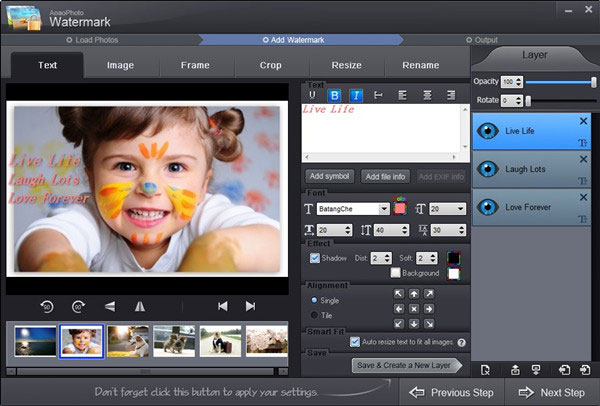 Hit "Next Step" button again. We come to the last step.
The 3rd Step: Choose an output format from the format list. Of course, if you don't need to change the image format, you can just Keep Original.
Set the output folder where you can organize these pictures better. Then click "Run".
Simple enough for all, even the most novice user. If you have interests in this app, you can visit its home page or Facebook page to learn more information.
Why Is Flickr So Popular?
There are hundreds of photo sharing websites or services available. But why is Flickr so popular? Flickr has fans around the world and the number of registered members is increasing rapidly. The Verge reported in March 2013 that Flickr had a total of 87 million registered members and more than 3.5 million new images uploaded daily. Flickr is easy to use. Adding another Flickr user as a contact helps people make their photos available to the people who matter to them. And with the key feature tags, it stands out.
Try & Buy
The Limitation of Free Trial
1. The unregistered version of Aoao Watermark will put "DEMO" watermark on output photos.
2. No expiration.
3. No functional limitation.