Video GIF Maker - Convert Video to GIF Easily with the GIF Maker from Video
The video GIF maker helps you get animated GIF images from video with high quality.
Get latest version of Video to Picture Converter.
Video to GIF Converter getting started
View Detail of Video to GIF Converter
Why Convert Video to GIF?
The questions on how to make a GIF from video are full of the web. Did you find the best solution? If no, I think this article will be very helpful. After reading, you won't need to waste much time on this annoying question.
Why people prefer to make GIF from video? Some may want to put GIF on website to save space, some may only want keep some wonderful segments of a video. What's your preference?
Look for a way to make gif from video? Aoao Video to GIF converter can do it well, let you play video in GIF file.

What's the Best Way?
Let's return. Today I want to share one of the best ways to get animated GIF from video. All you need is a professional and easy-to-navigate tiny tool. Some may argue that the online tool is enough. However, its Achilles' heel is the security, especially when you put some private video online, not to mention it only supports converting a whole video. Don't hesitate to try a professional video GIF maker to customize your GIF.

I have used may related video GIF maker software including those free ones. Free software attract eyes indeed, but the output quality is not so good, or the output size is too large compared with the original. Thus, I highly recommend you a more professional program.
Aoao Video to GIF Converter - a GIF maker from video, helps you easily convert a video of any format like AVI, MPEG, MPV, MP4, VOB, FLV, MOV, etc to GIF as well as seriate pictures. With it, you are able to have precise control over frame rate by dragging the time-line bar. Besides, adding special effects and video-to-photo resizing are also available.
How to Get Animated GIF from Video with the Video to GIF Maker?
Before adding the video, make sure you've downloaded and installed the program on your PC successfully. Now let's open the program.
Step 1 – Import the Video to the Program
Click "Load Video" to input the video you want to convert. You'll see the friendly main interface as the image below.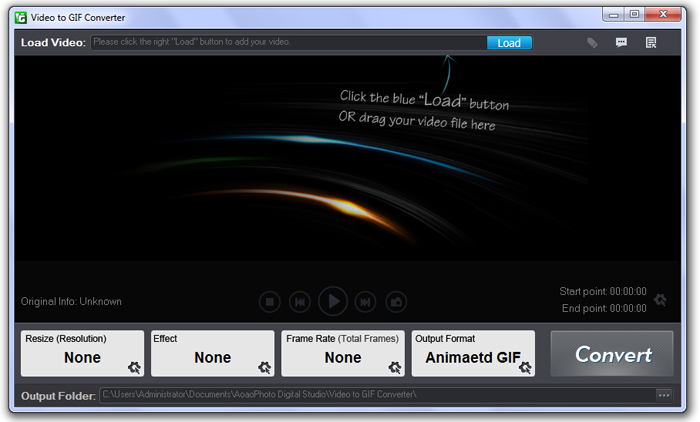 Note: After adding your video, you are allowed to preview it as well as able to capture a single picture from it by pressing the "Camera" button.
Step 2 – Set the Length of the GIF Image and More with Ease
Drag the time-line bar to set the starting and ending time of the GIF images, select the frame rates of the GIF images.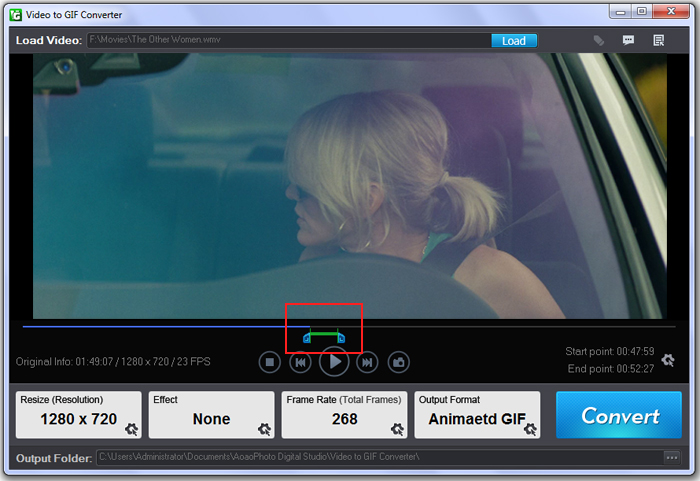 Resize the output image if needed. (Optional)
Apply special effects like Black and White, Invert, Sharpen, Brighten, Red, etc to touch up the output file. (Optional)
Click "Next" to the last step.
Step 3 – Start to Convert Video to GIF
This tiny tool lets you preview the output GIF image. And you are allowed to change your setting at this step.
Choose an output folder for better organization.
Set the GIF output quality. Its default quality is Best Quality (Slowest).You can also have other choice according to your requirement including Windows 256 Colors, Netscape 216 Colors and more.
At last, hit "Run".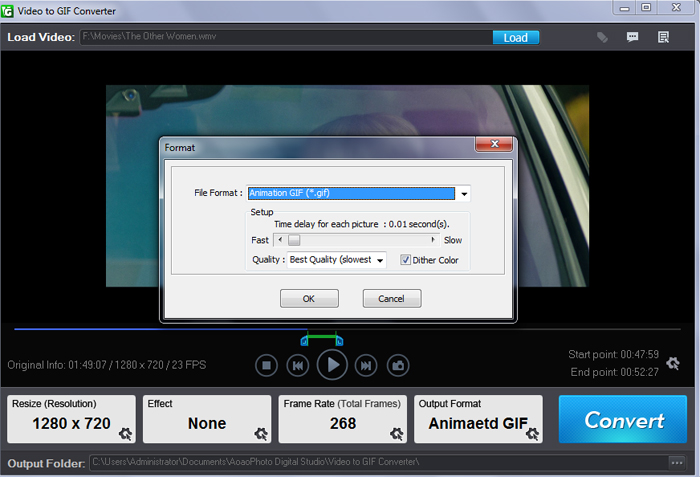 When the task is finished well in very short time, you can open the output folder to check the animated GIF file.
Sample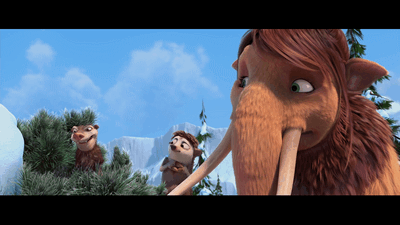 Try & Buy
The Limitation of Free Trial
1. The unregistered version of Video to GIF Converter will put words "Unregistered verion" on output picture.
2. No expiration.
3. No functional limitation.