How to Make a Picture Video
Get latest version of Video to Picture Converter.
Video to GIF Converter getting started
View Detail of Video to GIF Converter
What is picture video?
As we know, video is the technology of recording a sequence of still images representing scenes in motion. Video is popular file in our life, we can see video anywhere including TV, Computer, advertising screen, iPad, cell phone, etc. But the video has a big disadvantage is that file size too large, not suitable for network transmission. When I browse a video on website, load the video need long time, that's not I want.
Is there any way to get video become small size file.
The answer is yes! Picture video is it, the animated GIF file also called picture video. Most of the pictures are still frame, but GIF is an exception, GIF able to show multi-frames in one file, that means you can play a video in a picture file. But in most GIF can not replace video, because GIF has no sounds, so picture video is silent video. It is more suitable for using on web page to show some clips of the video.
Sample: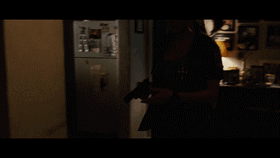 What difference between picture video and common video
Common video and picture video have their own characteristics, compare the between of common video and picture video:
| | | |
| --- | --- | --- |
| Feature | Common Video | Picture Video |
| Sound | Yes | No |
| Smooth picture | Yes | No |
| Large size | Yes | No |
| Small size | No | Yes |
| Format: AVI, MP4, MPEG, WMV, MKV, H264, etc | Yes | No |
| Format: GIF | No | Yes |
| Suitable for web page | No | Yes |
How to make a picture video with Aoao Video to GIF Converter?
If you never used Aoao Video to GIF Converter, please download it at: https://www.aoaophoto.com/products/video-to-gif.exe
After the downloading has been completed please install it on your computer. This is a shareware, free trial without functional limitations, but the unregistered version will put words "Unregistered Version" on processed image. The list price is $29.90, now limited discount price is $19.90 few days, please seize the chance to purchase >>
You can make a picture video by two ways:
1. Bind a lot of pictures to an animated GIF.
2. Convert video file to an animated GIF.
This tutorial will tell you how to convert video file to an animated GIF.
Step1: Launch Video to GIF Converter, please load your video which you want to make it to picture video by click "Load Video" button to load your video file.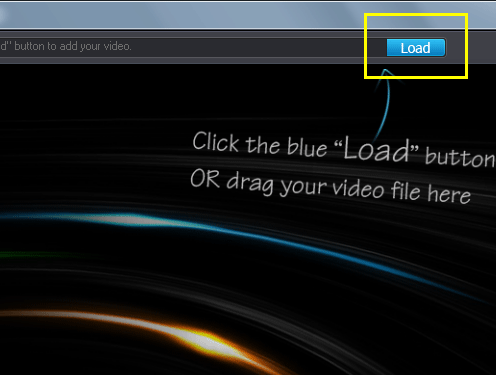 This program support popular video formats for loading like avi, mp4, mpg, wmv ,mov, etc.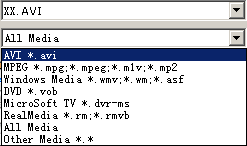 In the playback window, you can play, pause, stop, backward, forward, click the "Camera" icon to capture a still gif, jpeg or other image formats.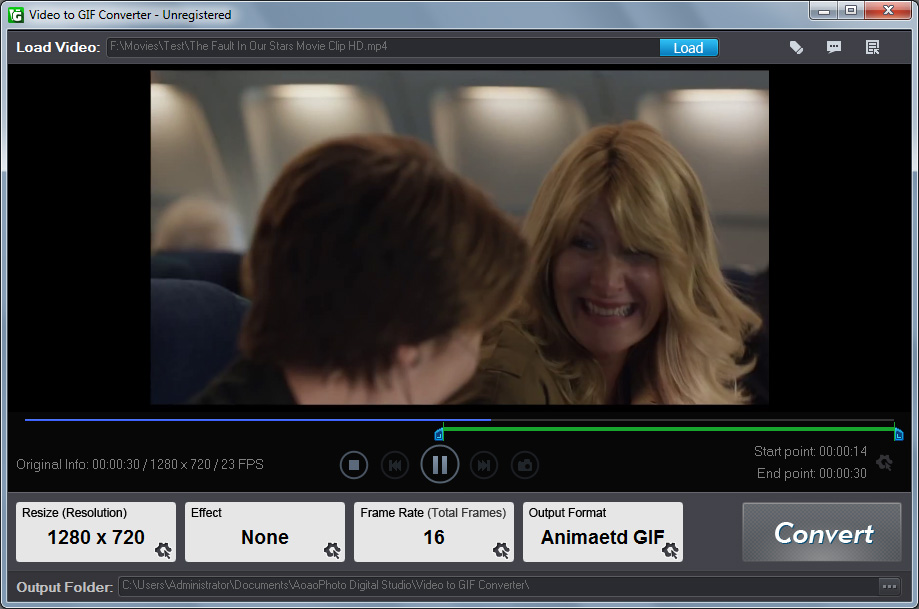 Step2: Adjust part of time for output gif image.
You can drag the small "Bar" or manually type start time and end time, click "Start" and "End" button to apply.

Step3: Choose a existing output size or manually type a size.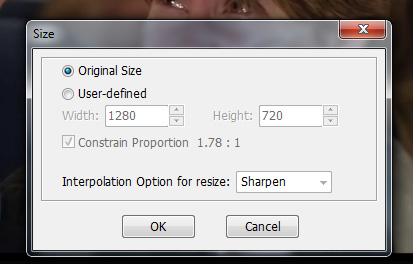 Step4: How many images per sec. setting.
Output frame setting – the default number 1, if you keep default number you will get 1 picture per second. If you want to get smoother picture, please set the number to 5-10.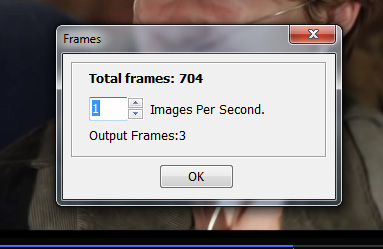 Step5: Output setting – set output folder, set the picture video's quality and velocity. Then click "Run" button to make a picture video.
Sample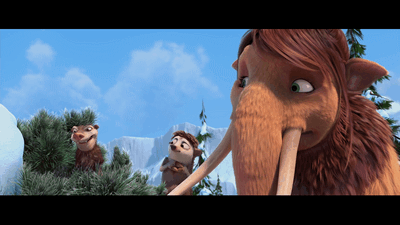 Try & Buy
The Limitation of Free Trial
1. The unregistered version of Video to GIF Converter will put words "Unregistered verion" on output picture.
2. No expiration.
3. No functional limitation.