Tutorial: Various Ways to Convert MOV to GIF (Animated GIF) with Ease
Get latest version of Video to Picture Converter.
Video to GIF Converter getting started
View Detail of Video to GIF Converter
If you enjoy the Internet, you must have seen many funny animated GIFs. Have you ever thought of creating GIF animations by yourself? Why not put your own GIFs on your blog or share with others or just use it as your forum avatar image to attract eyes? To solve the problem that has bothered you for such a long time, I'd like to share you three effective way to turn MOV to GIF.
2 Ways to Turn MOV to Animated GIF
Solution One: Zamzar.com
Zamzar.com is one of the most pop online resources which provides free file conversion services without downloading a software program. It supports many different conversion types, including video to GIF. With four steps, you are able to create a GIF animation from the video.
Before getting started, learn about the following limitations:
1. You must submit your email address to receive the converted file.
2. The video files have to be smaller than 100 megabytes in size.
3. You can't choose which part of the video is to be converted.

Cons:
1. There is users' feedback complaining that they tried many times but only received one confirmation email.
2. Some got spam emails.
Solution Two: Video to GIF Converter
Convert MOV to GIF at a Much Better Quality
If Zamzar is not your type, now I recommend another way. I've used the program for years and it works well as always. The Video to GIF Converter supports a wide range of input video formats including MOV, AVI, MPEG, MKV, WMV, 3GP, MP4 and any more. It has no limitation on video size and helps convert video files to GIF animation without quality loss. Besides, it also let me resize output GIF and apply cool effects to my GIFs before conversion. It deserves a try!

Full Guide to Use It to Do MOV to GIF Conversion, Simple Clicks
Preparation: Make sure you've downloaded and installed the program successfully.
Step 1: Run the converter and then click "Open" to select an MOV file.

Note: When you import the MOV video to the program, you are able to see some important info, such as time duration, total frames, resolution, frame rate and aspect ratio.
Step 2: Control the length of the converted part by dragging the time-line bar under the preview window. Or just type the starting and ending frames to accurately choose the GIF duration. Moreover, you're allowed to fine-tune each frame.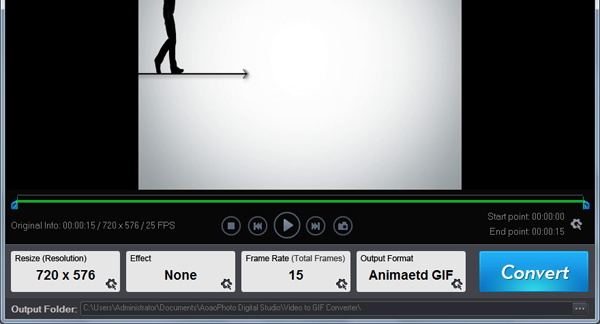 Resize the output file. You can change its width and check "Constrain Proportion" so that the height will be set automatically. Set the output rate. The default is 1.00. When you increase the output rate, accordingly the amount of totally frames will rise. And the GIF will contains more info.  (Optional)
Apply cool effects to retouch the output file, such as GrayScale, Invert, Brighten, Sharpen, etc. (Optional)
Select "Animated GIF" as output option.
Step 3: After finishing some necessary settings, now simply click "Run" and then set output folder.
Note: If you want to get faster speed and smaller file size, you can select "Windows 256 Colors" or "Netscape 216 Colors" instead of the default choice "Best Quality".
The Advantages of GIF
GIF is more compatible with the Internet compared with other multimedia formats, which is supported by all web browsers. Besides, uploading and downloading GIFs are fast and the files occupy little space.
Sample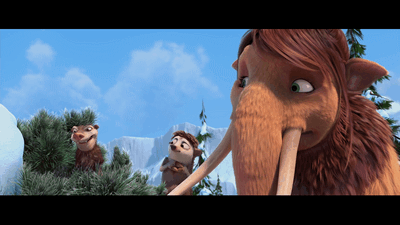 Try & Buy
The Limitation of Free Trial
1. The unregistered version of Video to GIF Converter will put words "Unregistered verion" on output picture.
2. No expiration.
3. No functional limitation.
You May Also Be Interested in These Articles:
How to Protect and Copyright Online Images
Why we need to protect our images? The reason is images and photographs we shared on websites may be unauthorized copying and use.
How to Put Text to GIF
How to put text on GIF to make your GIF images cooler and more meaningful? You just need a professional animated GIF editor to help you solve such question.