How to Add Digital Signature to Hundreds of Photos at One Go
Get latest version of Aoao Watermark.
Aoao Watermark getting started
View Detail of Aoao Watermark
When sharing photos online, you never know what will happen to these photos. Other viewers always have the chance to copy your photos and use them elsewhere without your permission. So these days it's popular to sign your image works before posting online to declare their ownership. And adding your personalized digital signature is a much more attractive way to watermark a photo. The whole watermarking process is pretty easy and quick. There are also many tools can help to do so. Here I will apply one of these watermarking programs – Aoao Watermark Software and guide you how to use it to add a digital signature to a bunch of photos in a quick way.
How to Add Signature to Hundreds of Photos with Aoao Watermark Software
Aoao Watermark Software is an easy to use program offering professional image protection solutions for your digital photos. Allow your put watermarks (text, image, logo, etc) to your images. It works better among many watermarking programs on the market and can provide you a fabulous way to create personalized watermarks. With its powerful batch processing engine, it only takes a minute to watermark hundreds of photos at one go. Now let's see the quick guide of adding signature to photo with it.
Step 1 Add Your Source Photos to the Program
If you never used this program, you can download Aoao Watermark Software first to have a free trial.

After this software has been downloaded and installed, open it, you will see its main interface.
On the main interface, click "Add File"/"Add Folder" to load source photos you want to watermark.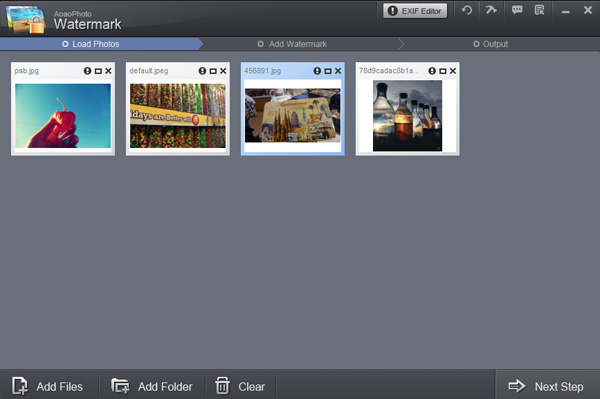 Note: After photos have been loaded, right-click the photo, you can see their original size and image types. You are able to resize them or convert them to other different image formats, as well.
Step 2 Add Digital Signature to Brand Your Works
Click "Next Step" button, you will come to watermark editing interface. Here you are allowed to add text, image, frame as well as crop, rename and resize the pictures. To add signature to photos, first you need to load your signature you have to the program.
If you do not have one, you can create it by clicking "Text" tab. You need to type your signature and then select current font, change font size as well as set font color. Besides, you are also able to shadow signature or add background color to make your signature more remarkable. If all have been done, click "Save & Create a New Layer".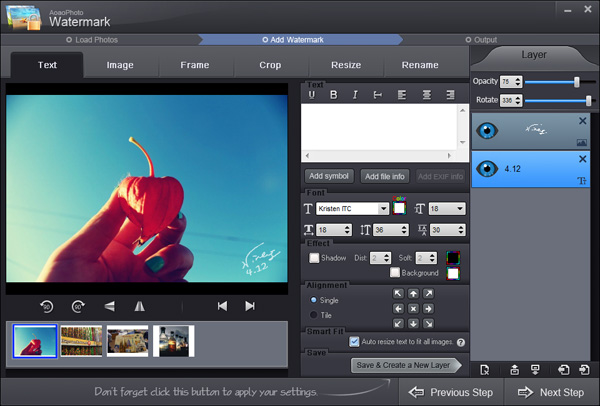 Note: Adding copyright symbols like©® ™ to your photos is also available. You can also overlay many layers to customize your watermarks.
Step 3 Start Watermarking Hundreds of Photos Quickly
Click "Next Step" to jump to output setting interface. Here you need to choose an output folder and specify output image format. At last, click "Run "button to start processing your photos quickly.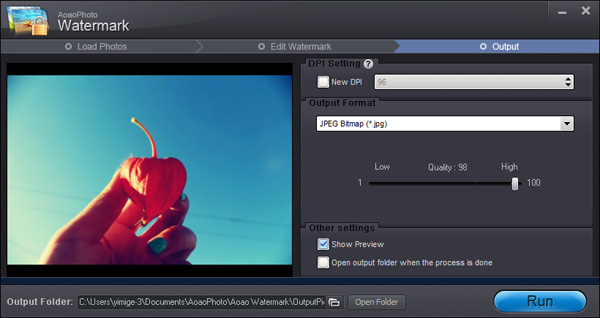 Note: Aoao Watermark can not only add signature to image, but also convert image format. The formats it supports include JPG, BMP, TGA, GIF, TIF, PCX, etc.
Samples: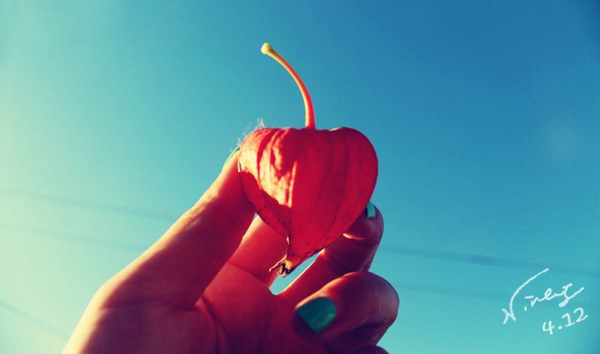 Try & Buy
The Limitation of Free Trial
1. The unregistered version of Aoao Watermark will put "DEMO" watermark on output photos.
2. No expiration.
3. No functional limitation.