How to Watermark Photos in Alphabetical Order
Get latest version of Aoao Watermark.
Aoao Watermark getting started
View Detail of Aoao Watermark
Capture the Moment, Share the Fun
What do you want out of a journey? Whether you are a keen amateur photographer or not, you will often take up the camera to capture the beautiful moments in your travels. You may also desire to share the pictures in your camera with your friends, to share life together. When shared, joy is doubled. Meanwhile, one thing you need to watch out for: security. Your photos may face the potential risk of being usurped if posted on social sites. Watermarking photos encourages you to announce your copy rights to those images and protect online photos.
Then the question arises. How to watermark photos in batches and make them sequenced in alphabetical order at the same time? This tutorial provides the accurate, reliable, safe, simple method for you: rename and sequence the photo files in alphabetical order with Aoao Photo Watermark, and then make the photo name as the watermark name.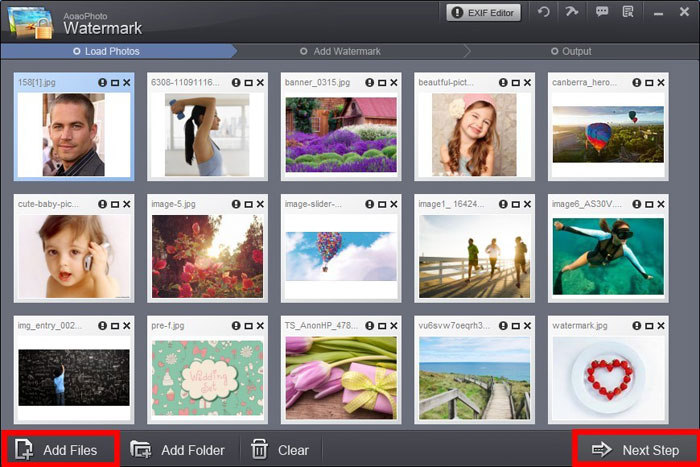 Rename and Sequence Photos in Alphabetical Order
Load your photos to Aoao Photo Watermark software. Then click "Next Step" to access the editing window.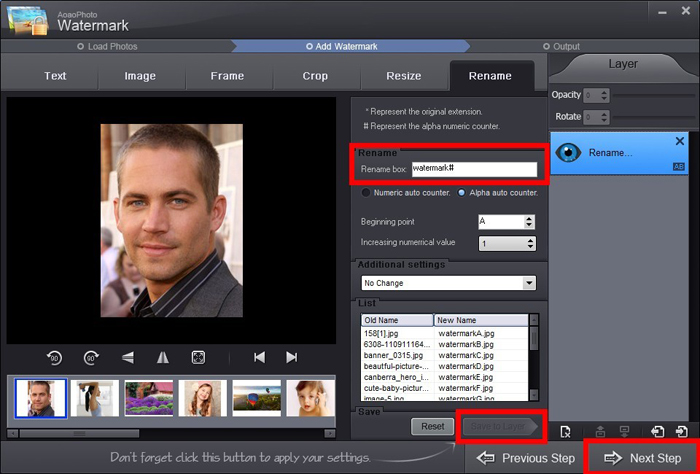 Select "Rename" button in the watermark software toolbar. Pay attention to the Rename box. The raw contents are the name of the file combined with three symbols of #. The # stands for the extension. Namely, if the original file name is "My Photo", it will be shown as "My Photo###". To put the photos in alphabetical order before watermarking, you can specify the file name as "watermark" and set the extension in alphabetical order. "watermark A", "Watermark AAA", for instance. Click "Save to Layer" to apply the settings and go to next step.
In the "Output " setting interface, after setting output folder and output photo format, click "Run" button to start the batch rename photos process.
Learn more about batch rename function.
Watermark Photos in Batches - Make the Photo Name as the Watermark Name
Upload the renamed photos to the watermark software. As you can see, the file names range from "watermark A" to "watermark O". What we should do next is to click "Next Step" to add watermark.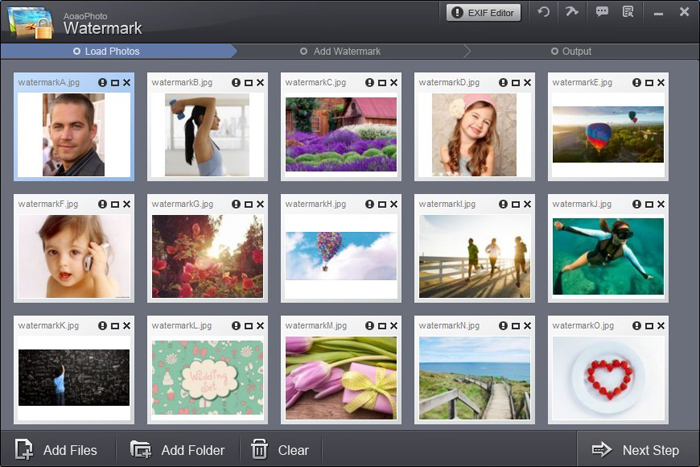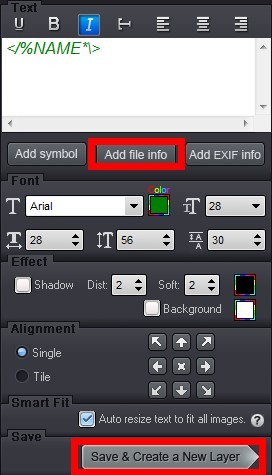 Under the Text heading, click "Add file info" to choose "File Name" as text watermark. You can adjust the font, color, size of the watermark, or set the effect, position. Don't forget to click "Save & Create a New Layer".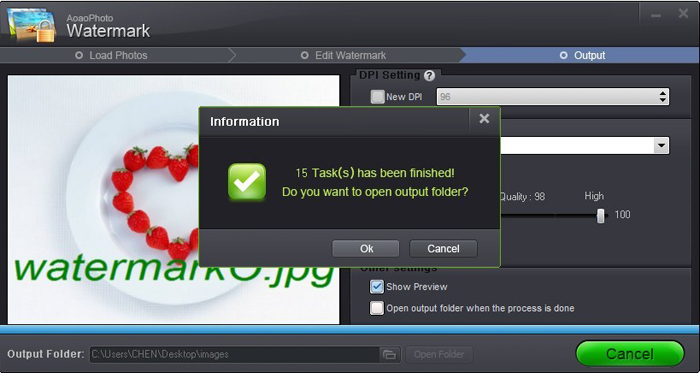 The last step is to run the process of watermarking photos. Within seconds the process is completed. Open the output folder to get the processed photos with sequential watermarks.
Try & Buy
The Limitation of Free Trial
1. The unregistered version of Aoao Watermark will put "DEMO" watermark on output photos.
2. No expiration.
3. No functional limitation.