How to Convert SWF to GIF with Excellent Quality?
Get latest version of SWF to Picture Converter.
SWF to Picture Converter getting started
View Detail of SWF to Picture Converter
Find a software to convert SWF to GIF
A friend of mine is trying to convert SWF to GIF for his blog navigation menu. But unluckily, when he exports SWF to animated GIF, it turns out be poor in quality. Have you ever wanted to convert SWF to GIF for uploading to your MSN avatar image or blog navigation menu? Is it really difficult to find a wonderful SWF to GIF converter which can help you get good quality GIF but not the bad one? Actually, you come to the right place at this time. I'm going to show you the best way to convert SWF to animated GIF with the best possible output quality.
As you may know, flash SWF files are usually animated vector graphic. So if you want to extract pictures from an SWF file or convert SWF to GIF files, you need this SWF to GIF Converter which enables you to precisely control the frame rate. That is, you can set 24 frame rates per second to get the animated GIF with same quality as the original SWF video or just set 1 frame per second to make GIF with smaller size.
Besides, you can also convert SWF to any other image formats like JPG, BMP, TIF, PNG, etc. Adding special effects to touch up your GIF works is available as well.

As SWF to GIF uses the most advanced decoding technology, it can not only support the common flash SWF files, but also script SWF which the majority of the similar software cannot identify.
Step-by-step Guide on How to Convert SWF to GIF with High Output Quality
Before the converting process, make sure you have downloaded, installed and run this SWF to GIF Converter on your computer.
Step 1 – Import an SWF File to this Software
Click "Open" to import an SWF video and then you'll see the image below which contains all the information you need to know.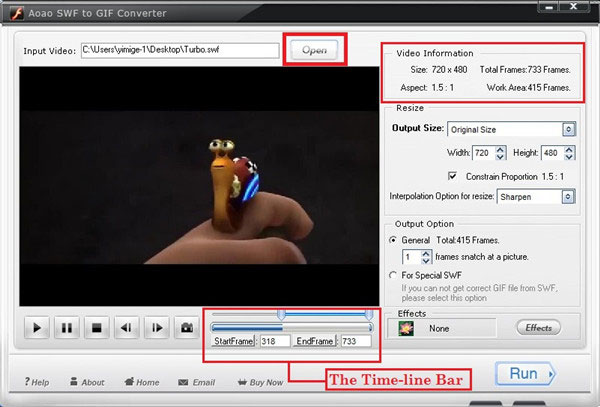 Note: Do you see the detailed information of this video file like its size, total frames, frame rate, etc? The whole information is very useful for your later settings.
Step 2 – Set Which Part of the Video to Be Converted
At this step, drag the time-line bar to set the starting time and ending time of the output GIF. You can accurately set the StartFrame and EndFrame!
Then resize the GIF size. If you want to keep the original size and don't mind if it takes too much memory, you could skip this. (Optional)
Or if you tend to retouch this GIF image, you offered some special effects like Black and White, Blur, Brighten, Noise, Red and more. (Optional)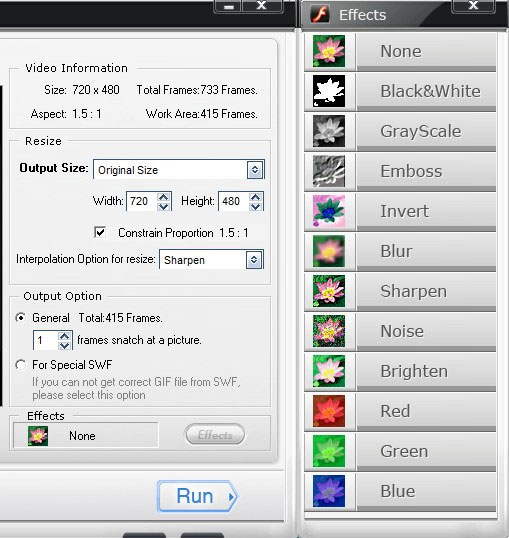 Step 3 – Choose Output Format
Click the "Run" button and you'll see another intuitive window. Now you can select an output folder or just keep the original image folder as you like. Moreover, you can select the quality of the GIF file – General/Good/Best.

Extended Knowledge
SWF is an Adobe Flash file format used for multimedia, vector graphics and ActionScript. Currently, SWF is the dominant format for displaying "animated" vector graphics on the Web. It may also be used for programs, commonly browser games, using ActionScript.
Try & Buy
The Limitation of Free Trial
1. The unregistered version of SWF to GIF Converter will put words "Unregistered verion" on output picture.
2. No expiration.
3. No functional limitation.