Get latest version of Aoao Watermark.
Aoao Watermark getting started
View Detail of Aoao Watermark
What's New in V6.0
1. Fixed the system palette to RGB mode, adapt of almost all the pictures's colors. That means you will get the output picture without quality loss.
2. Fixed bug of installing error on non-administrator user account.
3. Optimize the sawtooth of text watermark, that means you will get a smooth edge of the text.
4. Optimize process speed of oversize picture.
5. Support input variables as a text watermark, like "File Name", "Photo Date", "EXIF Info", etc.
6. Support insert copyright symbols © ® and ™.
Discount Now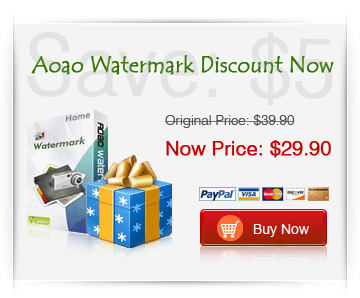 Try & Buy
The Limitation of Free Trial
1. The unregistered version of Aoao Watermark will put "DEMO" watermark on output photos.
2. No expiration.
3. No functional limitation.