Full Version of Aoao Watermark Software Is Available Now
Get latest version of Aoao Watermark.
Aoao Watermark getting started
View Detail of Aoao Watermark
Nov 27, 2013 – The full version of brand new Aoao Watermark Software has been released by AoaoPhoto Digital Studio. Compared with its beta version announced not long ago, this upgraded version is more stable in performance and more detail oriented. All-new design on interface will definitely catch your eyes at first sight. With the improvement of functions and watermarking speed comprehensively, Aoao Watermark Software delivers impressive performance among watermarking tools. In addition, this full version brings a wealth of new features, like EXIF editor (Invisible watermark), image viewer and more in one program.
Create Visual Watermark in A Range of Styles
Aoao Watermark Software is a professional photo watermark software product that allows one to add visible watermarks to hundreds of digital photos at one go. It can be a big help to any one whose business depends on photos like professional photographers, artists, online sellers.
Aoao Watermark Software makes it very easy for anyone to create watermarks in a wide range of styles at your will. User can add a watermark which consists of text (it allows you to adjust opacity and rotation, alignment, spacing), images, frame or masks (e.g. set watermark mode, proportion, alignment) to a bunch of photos within minutes.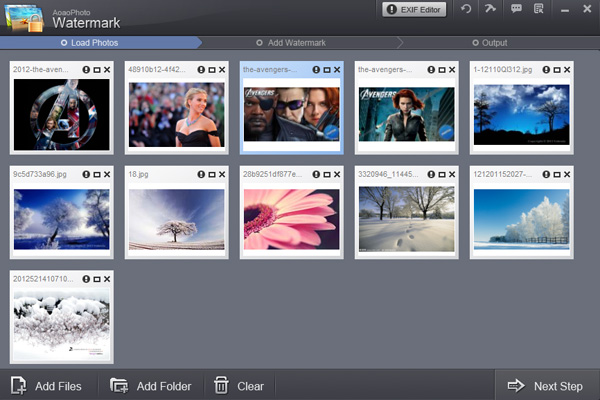 EXIF Editor and Image Viewer in One Program
AoaoPhoto Digital Studio newly added EXIF Editor to the program, which is another kind of way to add invisible watermark on your photos. This feature let users have more options to protect their digital photos. The new version of Aoao Watermark Software can also be applied as an image viewer to enjoy more with your images. All features in one program. Everything you need has been thought through.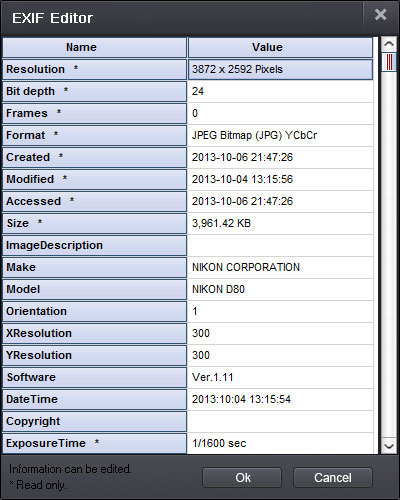 Batch Watermark Photos with 10x Faster Speed
One of the most useful features of Aoao Watermark Software is the ability to watermark photos in batch mode. This means you can load a large amount of photos and watermark them at the same time. The whole task can be done in minutes and get going. Other than the robust watermarking features, Aoao Watermark Software can also be used to batch convert, rename and resize photos.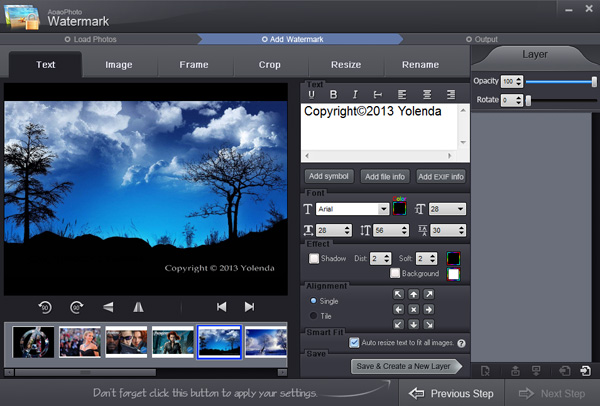 Watermarks show the ownership and copyright of the photo right on the image and since it cannot be removed without damaging the visual aspects of the photo, it discourages unauthorized use of the photograph. If you need a handy application to protect your photos in minutes, Aoao Watermark Software will be your top choice.
What's more, AoaoPhoto Digital Studio has a daily discount offer with different Windows programs giving out continuously. You can visit its Facebook page to get more promotion information.
Try & Buy
The Limitation of Free Trial
1. The unregistered version of Aoao Watermark will put "DEMO" watermark on output photos.
2. No expiration.
3. No functional limitation.